All eyes on Eason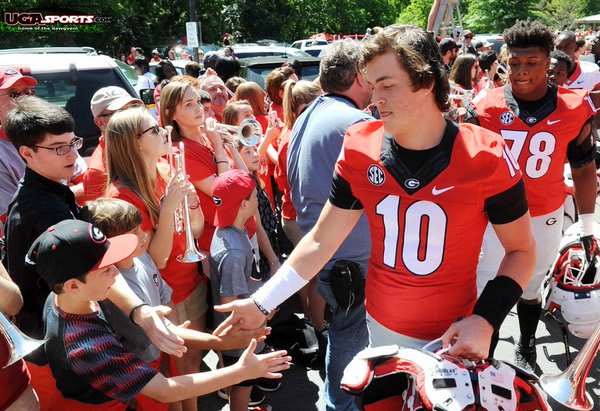 HOOVER, Ala. – Will Jacob Eason be a better quarterback than he was as a freshman last fall?
Bet you haven't heard that one asked before.
If for some reason you've been mining coal in West Virginia, you will, and many more times to follow before Georgia opens its season against Appalachian State.
Jokes aside, this is a serious question.
Whatever success Georgia has this fall is going to depend on the play of the now-sophomore Eason.
Talk about the offensive line, receivers, secondary, special teams all you want. While each phase of the Bulldog football team needs to execute at its utmost efficiency, if Eason doesn't do his part, well …
Head coach Kirby Smart will tell you there is certainly improvement to be made.
"I'm a big believer in completion percentage. I think Jacob understands, and we've communicated throughout the spring, if he wants to change the win-loss record, we have to change the completion percentage and we have to allow him to make some easier throws, and he's got to be more accurate doing so," he said. "I think everybody's defined initially by that, just like championships define NFL quarterbacks. It is part of it, and it's what you know when you get in the game."
Smart obviously has a point.
Eason, for all his ability to spin a football, footwork, anticipation and accuracy are all areas Smart and offensive coordinator Jim Chaney are working hard to get the quarterback to improve after completing just 55.1 percent of his passes (240 of 370 passes for 2,430 yards) last fall.
"I'm really excited about Jacob Eason's growth, to watch him over the spring, the confidence he played in the system with, his ability to throw the ball and understand where pressure's coming from. He's grown tremendously," Smart said. "I think Coach Chaney has done a great job with him in this offseason, making him realize his weaknesses and continue to work on those."
So, how has he done?
Although the summer doesn't allot coaches to observe players in the way they obviously will during fall camp, Smart claims some progress has been made. But he's still looking for more.
"It's still a learning process," Smart said. "He's taken a much greater leadership role in the organization of things. The quarterbacks essentially run the off-season throwing program because we can't be out there, so a lot of that falls on Jacob's shoulders. He's been tremendous at that. His next step is carrying it over to the field. That's the big part he's got to step up and do."
Running backs Nick Chubb and Sony Michel say Eason is giving it the old college try.
"He's definitely growing as a player, mentally and physically," Chubb said. "He's doing everything he is supposed to and becoming a much better leader."
Michel said he's also noticed a change.
"He got his freshman season under his belt. He got a great opportunity to learn from that season. He also became a great leader," Michel said. "During the off-season, training in 7-on-7's, he is leading by example and is even being more vocal. He also has other quarterbacks like Jake Fromm pushing him and competing. It is great to see young guys come in, and knowing their place and knowing how to work."
Smart said he feels Eason's trip last month to Thibodaux, La. for the prestigious Manning Passing Academy will also help him grow.
"I think No. 1 he gains confidence from going. You get to go and be around – let's call it what it is – one of the greatest quarterbacks to ever play the game in Peyton Manning, and Eli as well, who continues to play and be successful," Smart said. "But it's not just those two. It's the mentorship they get from Cooper [Manning], Archie, and throw in the fact that you're with maybe 60 of the best quarterbacks in the country. Sometimes behavior is learned and you learn how to behave like a big-time quarterback. You learn how to study when you sit in those meetings, so I think that was an awesome experience for him."