Zamir White injures left knee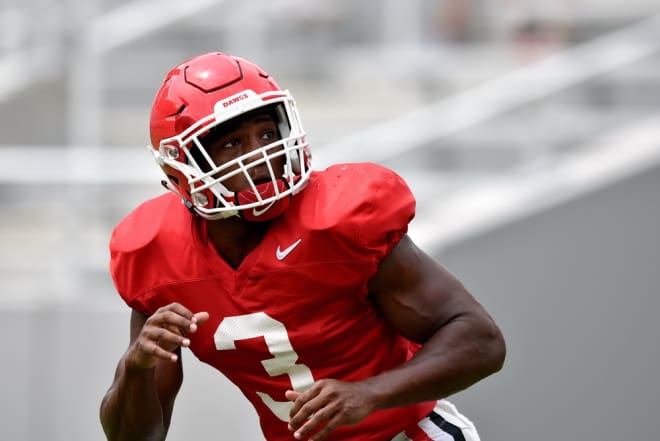 Freshman running back Zamir White suffered a left knee injury during Saturday's scrimmage at Sanford Stadium, head coach Kirby Smart confirmed.
"Yeah, he was on punt cover. He was covering a punt. And it was a non-contact injury. There was nobody really around," Smart said. "He and Mark Webb were kind of holding each other up. But we don't know anything yet. He's getting an MRI right now. So it's a left knee. It's his non-surgical knee. I can't tell you much more than that."
Unfortunately, the news does not appear good.
Following Smart's press conference, sources told UGASports and other media outlets that White did indeed tear the ACL in his left knee and will miss the season.
According to a source attending the scrimmage, White was able to walk off the field under his own power.
Smart took issue with a question asking if it was normal for White to work on the punt team.
"You guys are amazing. Sony Michel was a first-round pick last year. He covered a punt. Derrick Henry covered every punt at Alabama. I mean, why would you ask that, is it unusual for him to be on punt? D'Andre Swift's a starter on punt. So, is that unusual for our running backs to play?" Smart said. "I mean, I'm sick for the kid, because I don't know the severity of the injury. It's really not fair that all you guys run out there and throw stuff out there and we don't have a chance to talk to his parents. We've talked about that in here before. If you ask me about that after practice, that's fair. That's not fair for that kid's mom to find out about it from somebody talking and texting from someone in here."
It's been a tough go for White, who tore the ACL in his right knee during the second round of the North Carolina state playoffs. He underwent surgery in Athens in early December, and has diligently rehabbed his injury to the point of being cleared before the start of fall camp.
The top-ranked running back from 2017 according to Rivals, White rushed for 2,086 yards and 34 touchdowns in 11 games before last season's injury.
White was running predominately third and fourth team.
The freshman was running fourth team behind D'Andre Swift, Elijah Holyfield and Brian Herrien.