Youth served for Bulldogs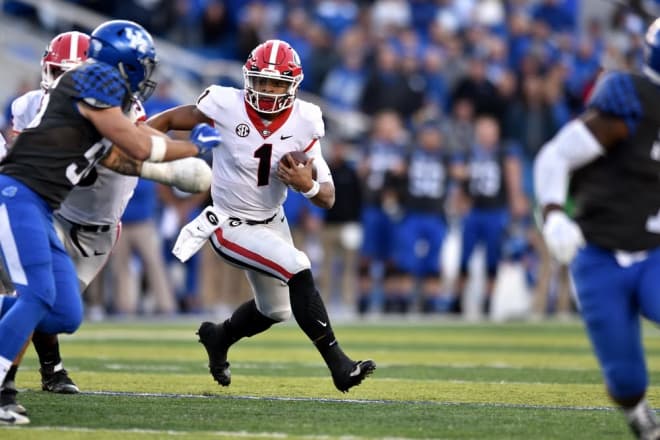 LEXINGTON, Ky. – Although it's all about this season for 6th-ranked Georgia, those who watched Saturday's 34-17 win over Kentucky received a glimpse of the future as well, on both sides of the ball.
Take linebackers Brenton Cox and Channing Tindall. They each recorded their first career sacks, while quarterback Justin Fields, offensive lineman Trey Hill, along with defensive back Otis Reese, defensive lineman Jordan Davis, and linebacker Adam Anderson made their presence known.
Head coach Kirby Smart was certainly pleased to see his youngsters take advantage of their respective opportunities.
"It builds confidence. I mean, Channing Tindall needs confidence. I'm telling y'all that guy is fast, he's athletic; he just needs confidence. He's been playing well on special teams. Same thing with Adam Anderson. He's got to gain some weight; he's got to get better," Smart said. "Otis is a big, physical guy that has a presence. There are just a lot of young players. But look, there are guys all over that field. Jayson Stanley today makes plays, and all he's done is contribute to special teams."
Anderson who took reps at inside linebackr, and Reese each made a tackle.
Hill in particular came up huge.
After Lamont Gaillard went out early in the game with what Smart described as a possible hyper-extended knee, Hill went in and played the rest of the game at center.
With the exception of a high snap that resulted in one of Georgia's two fumbles on the day, the former Houston County standout appeared to play well.
"To be honest with you, there were times this year during fall camp, when we thought Trey Hill may be a starter," Smart said. "We kind of tossed the idea around a lot of times. He's just continued to work. A lot of these freshmen who are on our team—highly regarded, talented players. They just keep working and they take on their roles."
Once Gaillard went out, Georgia's starting offensive line consisted of sophomore left tackle Andrew Thomas, redshirt sophomore Solomon Kindley, Hill, true freshman Cade Mays, and redshirt freshman Isaiah Wilson.
Mays, who left with a stinger in the second half and was replaced by senior Kendall Baker, is expected to be OK.
Redshirt freshman Robert Beal Jr. also played a good game at outside linebacker, finishing with three tackles.
"The young guys, man—I'm glad they got in and were able to capitalize," senior defensive end Jonathan Ledbetter said. "But you know, we've been stressing that. Those guys come to practice and they work their tails off every single day, whether it's doing one or two reps of good on good. Those reps pay off, you get in games and you execute. When you've got good players like we have on our team, we're going to make something happen."
Smart hopes there's more improvement to come.
"I think we're getting better. Ascending is a strong word; we're getting better. We've just got so many things to get better at. I hate to say it, but we left opportunities out there in this game. I know you're never going to play a perfect game, but I just wish we could play a cleaner game. We've got some guys that have to grow up," Smart said. "Defensively we're in a tough situation. We've got some young, good players that are still learning. We said this game, because of the athleticism of their quarterback, 'We've got to put them out there.' I thought Channing and Adam answered the bell. We've got to get those guys ready to play, because they're fast. We've got to continue to get Otis and some of those other players better, like Otis has gotten better."