Transfer defensive lineman talks Georgia offer and new coach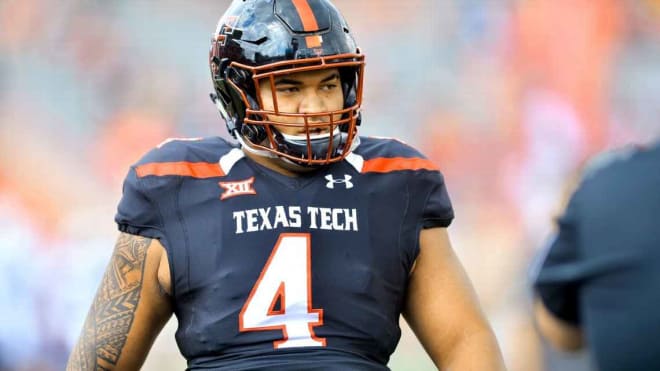 Georgia may not be done in the 2017 class if new defensive line coach Tray Scott has his say.
Texas Tech defensive tackle Breiden Fehoko, who started 25 games for the Red Raiders in his first two years, is transferring and looking for a new school. Today Fehoko received word from new defensive line coach Tray Scott that the Bulldogs had a spot for him.
"I just got off the phone with Coach Scott. He wanted to figure out numbers first, and I was the first person he called," Fehoko said. "It was awesome to touch base with him again, and Georgia is a big school."
Scott's pursuit of Fehoko, who is originally from Hawaii, continues from Scott's previous stop.
"He was recruiting me at Ole Miss when he got the job there," Fehoko said. "When I got released, he was one of the first coaches who reached out and built a relationship with me. I've got a good, close relationship with him, and I love the way he coaches. I've seen firsthand how he does it, and he likes the way I play. It was a good match for me. When he got to Georgia, we talked and said he'd give me a call. He called me today, and he said, 'Man, I told you I wouldn't leave you. I've got a scholarship for you here at Georgia.'"
Fehoko said Scott didn't speak much about why he took the Georgia job just 39 days after being hired by Ole Miss.
"No, not really, He didn't say much about it. Everybody in the business world wants you to get an offer that's your dream job,"Fehoko said. "Coach [Kirby] Smart is a big defensive guy. He was a big reason at Alabama for those national championships. For Coach Scott, it was a no-brainer to coach under a defensive mastermind like that. Honestly, he didn't say much other than it was his move. He doesn't want to take anything from Ole Miss recruiting me, but, yeah, he wants me to come to Georgia now."
The allure of Georgia is not lost on the former Texas Tech Raider.
"I mean, for me to get an offer from Georgia speaks levels," Fehoko said. "To know Coach Scott and the relationship we've built, it's been a solid bond over the past month. Wherever he went, I think we were eventually going to touch base again. That's how close our relationship was. It was fortunate enough that he ended at Georgia, and he wasn't going to stop until he gets a chance to coach me. I'm blessed and honored to have a second opportunity through all this. I'm thankful for Coach Scott and the staff for extending that relationship to me."
However, Georgia is not guaranteed a visit.
"I have an Auburn visit on the third of March. On the 24th, I have a Louisville visit. On the 31st of March, I have an LSU visit," Fehoko said. "I was supposed to take a visit to Ole Miss on the 8th, but there's no d-line coach. It would be tough to build that relationship so fast with Coach Scott moving along. I'll go from whenever they hire a new coach, but, as of now, it's three for sure: Auburn, Louisville, and LSU."
That doesn't mean the Bulldogs won't be in it, though.
"No doubt. He's been texting and saying there's no doubt he needs me. He wants me to make room for him, and he's making sure I come see him in Athens," Fehoko said. "With the relationship I have with Coach Scott, there's a good chance of me making it out there."
There's time for the Bulldogs to get involved, according to Fehoko.
"I'm looking to decide around mid-April after I take all my visits and weigh everything," he said.
Fehoko told UGASports.com he has three years of eligibility to play two years. He will sit out the 2017 season per NCAA rules for transfers.