The Name Is the Game (Defense)
By Patrick Garbin—Twitter @PatrickGarbin

For more than a year, I compiled nearly 100 names of Bulldog players who I came across in my work/research and regarded worthy of being featured on an all-time Georgia "All-Name Team." From those, I have selected a starting offense and defense. Yesterday, I presented the offense; below is the defense, including a punter.
Of note, the name given is the name the player was most recognized for… For example, Georgia's Buzy Rosenberg was always acknowledged as, well, Buzy Rosenberg—not Leman (his real first name) Rosenberg. Also, if I had a difficult time choosing one player over the other based solely on their names (e.g., Ben Zambiasi vs. Danny Verdun Wheeler at one of the linebacker spots), the deciding factor was their performance on the field. Still, in choosing most of the positions, as they say, the name is the game:
DEFENSE
DL—JIGGY SMAHA (1967): After an exceptional start in 1965, the Georgia varsity career of Jiggy (and, yes, that's his real first name) was soon derailed. A suspension was followed by academic ineligibility and, although he lettered in '67, Smaha decided to leave the program in 1968 with a year remaining to play. Still, for what it's worth, when it comes to names, there's few players up to par with Jiggy Ephram Smaha.
DL—ROCCO PRINCIPE (1949-1951): Chicago native Rocco Principe was not only distinguished by his name but was also recognized as the Georgia "club comedian." As a junior in 1950, the Bulldogs' entertaining humorist was a unanimous Second Team All-SEC lineman and, in a separate poll, was selected by SEC head coaches as the conference's best guard.
DL—CARLYLE HEWATT (1981-1984): From 1981-1983, although without equal in name, Carlyle Hewatt was also without much playing time, totaling just 20 tackles in nine games during the three seasons. However, as a senior in 1984, the Snellville, Ga., native finally got his chance, recording 55 tackles as one of Georgia's starting defensive ends.
DL—WYCLIFFE LOVELACE (1984-86, 1988): Just as much intriguing as his name was the level of turbulence of Wycliffe Lovelace's first four years as a Bulldog. Due to three knee injuries and a suspension, Lovelace entirely missed 21 of Georgia's 48 games from 1984-1987. However, as a senior in 1988, he starred along the Bulldogs' defensive front, recording 99 tackles, three sacks, two fumble recoveries and, in a victory over Georgia Tech, a pick-six: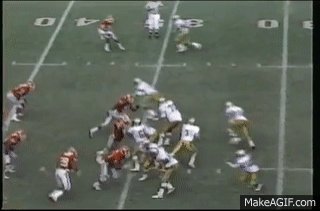 LB—HAPPY DICKS (1966-1968): Robert Dicks, known more so as "Happy," was the only other sophomore besides the legendary Bill Stanfill to start at least four games for Georgia's defense during its SEC championship campaign of 1966. Given the name because he seemingly always had a smile on his face when he was young, Happy ended his Bulldog playing days in 1968 by earning All-SEC recognition while finishing with seven career interceptions.
LB—CHUKS AMAECHI (2015-2016): When Amaechi was born, his mother's umbilical cord was wrapped four times around his neck. At the time, how the baby survived according to his Nigerian father, "only God knows" or, in his native language, "Chukwuma." Chuks (pronounced "Chukes"), for short, played in all 26 of Georgia's games in his two seasons, including two starts, totaling 23 tackles, one-and-a-half sacks, and six quarterback pressures.
LB—BEN ZAMBIASI (1974-1977): Many Georgia enthusiasts are perhaps unaware that Zambiasi's one-of-a-kind name in regards to Bulldog history actually was represented twice. Seven years after Ben signed with UGA, little brother Mike, also a linebacker, did as well. However, the similarities end there. Whereas Ben, who was from Macon, Ga., is still regarded as perhaps the greatest linebacker in the history of Bulldogs football, Mike, who was from Montgomery, Ala., never saw the field as a varsity member.
DB—BACARRI RAMBO (2009-2012): As interesting as Bacarri's last name is his birth last name: Fudge. Indeed, when Bacarri was in grade school, his parents chose to legally change "Fudge"—his mother's maiden name—to "Rambo," his father's name. Bacarri Fudge-turned-Rambo, a two-time All-SEC honoree, ended his Georgia tenure with a school record-tying 16 career interceptions.
DB—ELI MARICICH (1946-1949): Little Eli Maricich was considered too small to even play football in high school. However, after pursuing the sport while in the Marines, the 170-pound halfback from Chicago became one of the most versatile players on the great Georgia teams of the late-1940s. During his Bulldog career, he scored eight touchdowns—three rushing, two receiving, two via interception returns, and one on a punt return—and totaled 13 interceptions.
DB—QUINCY MAUGER (2013-2016): For the sheer fact he is the only Georgia player in at least the modern era whose pronunciation of his last name changed during his career, Quincy Mauger makes the All-Name Team. From "Maw-Gerr" to "Mo-ZHAY," Mauger totaled 187 tackles, 11 pass breakups, and nine interceptions during his four seasons as a Bulldog.
DB—BUZY ROSENBERG (1970-1972): Leman Rosenberg was chiefly known as "Buzy," while nicknamed "Super Frog"—and for seemingly good reason. Very few Georgia defensive backs accomplished as much in their first two seasons as Rosenberg did. For the 1970-1971 campaigns, Buzy tallied eight interceptions from his right cornerback position and ran back four punts for touchdowns, while being named First Team All-SEC both years.
P—BUCKY DILTS (1974-1976): Don't let the 38.5-yard career punting average of Douglas Riggs Dilts or, simply, Bucky, fool you. Bucky Dilts was the master of placing the ball out of bounds inside the opposing five-yard line—something that's somewhat of a lost art today. Of Georgia's extraordinary 22-member senior class of 1976, six of which earned All-SEC honors that season, Bucky had the third-longest NFL career, trailing only Mike "Moon Pie" Wilson and Matt Robinson.
Who did I miss? What defensive player should be a starter on Georgia's all-time All-Name Team?