The latest with Green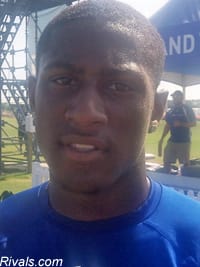 Despite the fact that he decommitted from South Carolina, the information out of Green's camp has been quite scarce.
But with just a few weeks until National Signing day it appears that the nation's 18th rated cornerback by Rivals.com is preparing for the stretch run by scheduling visits.
As it stands right now, Green is only mentioning two schools that he will visit officially in South Carolina and Georgia.
"On the 17th (of January) I will be going to South Carolina," Green told UGASports on Tuesday.
Green also says he has a visit to UGA planned in the near future but it won't be an official.
"I'll be going up there this weekend (January 11) but it won't be for an official," he said.
The NCAA mandated "Dead Period" doesn't end until January 15 so Green won't be able to have any face-to-face contact with the Georgia staff while he is on campus.
That will come later in the month as Green confirmed to UGASports via text message that he will visit the Georgia campus on January 24 or January 31.