Smart on his new staff hires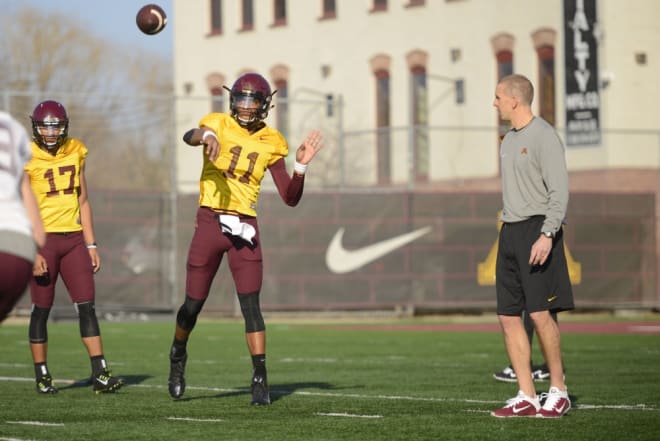 Kirby Smart said it hasn't taken new staffers Jamil Walker and Jay Johnson long to make a quick impact since being hired to join the Georgia football program.
Walker, an assistant strength and conditioning coach, joins the Bulldogs from Wisconsin while Johnson holds the title as Offensive Quality Control coach after coming on board following his recent stint as the offensive coordinator at Minnesota.
"I'm super excited about Jamil Walker. He comes from Wisconsin. He was unbelievable in his interview," Smart said. "He's been a head strength coach for Coach Alvarez during their bowl season. He did a tremendous job; he came very highly recommended and he blew us away during his interview."
A former running back for the Badgers, Walker was on the Wisconsin team that fell to Georgia in the 2005 Outback Bowl in Tampa.
He has spent the past nine years working as an assistant strength coach with the Badgers.
"He has done a great job transitioning to our players, he's been a huge asset to our program. I think from his interview, there are some things they do that Coach (Scott) Sinclair was very impressed with," Smart said. "He's shared some of his ideas and some of the things they've done. It's always good to get a changeup."
Smart has been equally as impressed with Johnson.
"His connection probably came with Sam Pittman, they worked together; I knew him at Southern Miss," Smart said. "We brought somebody in who we thought could generate ideas, help us from an idea standpoint."
Although Johnson can't work specifically with quarterbacks Jacob Eason and Jake Fromm, he can – and has – provide another voice to Jim Chaney when it comes to developing Georgia's offensive game plan.
"Offensively, he helps with how to practice different guys, how to practice different situations," Smart said. "That was a really good position hire because he's been a really good asset thus far from a quality control standpoint, decision making, and offensive game-planning."
Smart likened Johnson's role with Chaney as his with defensive coordinator Mel Tucker.
"It's like me with the defense. I'm not the defensive coordinator, I don't call the defenses but I help Mel with ideas," Smart said. "They (the offense) didn't get that person last year who could help with ideas, so I think bringing new ideas, new energy over there … it helps."