Redshirt Review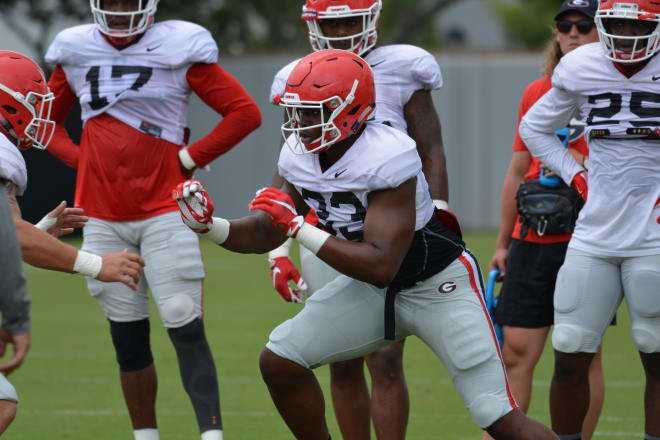 For the eight members of Georgia's 2017 class that redshirted for the Bulldogs last fall, opportunity awaits.
For some, the year off provided the chance to grow both physically and mentally. Others, it was to become better acquainted with the playbook before taking the field.
For all, it was the opportunity to become better football players, and this fall each will get their chance to become actual contributors on the field.
Let's take a look:
Netori Johnson
| Height | Weight | Position | Fall Practice Status |
| --- | --- | --- | --- |
| 6-4 | 325 | Offensive guard | Will try to establish himself in the pecking order at guard |
Johnson in 2017: The former Cedar Grove standout told UGASports back in December he redshirted partly due to Diabetes. The news is good, however, as Johnson was able to get in better shape, and by the end of the spring practice was seeing reps with the second unit at right guard.
Johnson in 2018: With the depth and talent Georgia currently has accrued on the offensive line, Johnson isn't expected to find a starting role this fall, but he's certainly improved to the point where he can earn a backup opportunity at either one of the guard positions. We saw Johnson primarily at right guard during the spring, where he competed with Ben Cleveland Solomon Kindley.
Isaiah Wilson
| Height | Weight | Position | Fall Practice Status |
| --- | --- | --- | --- |
| 6-7 | 345 | Right Tackle | Enters fall No. 1 on the depth chart at right tackle |
Wilson in 2017: By his own admission, Wilson said he needed a year to get adjusted to life as an SEC offensive lineman. He apparently put his time to good use. Not only did Wilson successfully acclimate himself to the heat at humidity of Georgia, but but he proved to be an eager student of the game, and as a result has set himself up to be the Bulldogs starter at right tackle this fall.
Wilson in 2018: Smart will tell you that all positions are still up for grabs. While that may be true, it's difficult to imagine Wilson being anywhere but in the starting lineup at right tackle when the Bulldogs open their season against Austin Peay. Don't think we're going out on a limb when we say he has a chance to be special.
D'Marcus Hayes
| Height | Weight | Position | Fall Practice Status |
| --- | --- | --- | --- |
| 6-5 | 315 | Left tackle | Battling for a backup role |
Hayes in 2017: It was thought the junior college transfer would come in and immediately challenge for the starting job at left tackle. That didn't happen as the Mississippi native struggled upon his arrival, leading to the decision to redshirt what would have been his junior season.
Hayes in 2018: Hayes won't challenge for a starting role, but coaches still hope he can become a contributor as a backup. Late in the spring, there seemed to be at least a little hope. We saw Hayes rotate in with the second unit at left tackle behind starter Andrew Thomas, and assuming he can carry over some of that confidence we're told he gained, he'll still be a very valuable piece. Don't write him off just yet.
Matt Landers
| Height | Weight | Position | Fall Practice Status |
| --- | --- | --- | --- |
| 6-5 | 190 | Wide Receiver | A strong redshirt year and spring practice has Landers in position for considerable PT. |
Landers in 2017: Landers certainly grabbed Kirby Smart's attention. Georgia's head coach praised Landers throughout his redshirt year, lauding his competitiveness, desire and work ethic.
Landers in 2018: Landers won't start over the big three of Terry Godwin, Riley Ridley and Mecole Hardman but at 6-foot-5 and 190 pounds, you can bet Smart and offensive coordinator Jim Chaney will find ways to get the redshirt freshman in the game. Watch for Landers to play a big role on special teams, too.
Latavious Brini
| Height | Weight | Position | Fall Practice Status |
| --- | --- | --- | --- |
| 6-2 | 205 | Safety | In a scrum for playing time at safety. |
Brini in 2017: Brini found his name in the headlines for different reasons following his arrest for forgery charges, which were ultimately dropped due to a miss-identification. Although that now doubt weighed on Brini's mind, he was able establish himself as future contributor in the Bulldog secondary.
Brini in 2018: You don't hear Brini's name mentioned a lot when it comes to players who may earn playing time at safety, but he shouldn't be forgotten man. The Florida native will receive plenty of opportunity this fall to show he can contribute.
Tray Bishop
| Height | Weight | Position | Fall Practice Status |
| --- | --- | --- | --- |
| 6-3 | 210 | Safety | Unclear |
Bishop in 2017: It's been a rough year for Bishop. First, it was an ankle injury that slowed his progress for much of the year, followed by his arrest in May on a felony charge of eavesdropping/surveillance.
Bishop in 2018: That's hard to say. To our knowledge, Bishop is still part of the team, but it's obvious his legal troubles will have a distinct effect on whether or not he contributes this fall. If he gets it worked out, it's conceivable Bishop earns some PT, but right now his future remains unclear.
Eric Stokes
| Height | Weight | Position | Fall Practice Status |
| --- | --- | --- | --- |
| 6-1 | 185 | Cornerback | Strong spring has former track star in position for playing time. |
Stokes in 2017: Spent last year learning the position, but made a good impression with his willingness to listen and work ethic. Followed that up with a solid spring, although like most young players, still needs to be more consistent.
Stokes in 2018: One of the fastest players on the team, Stokes will get a long look this fall, although it's still too early to pencil him as a consistent contributor quite yet. We'll see. With that kind of speed, however, one would certainly believe coaches will at least find good use for him on special teams.
Robert Beal
| Height | Weight | Position | Fall Practice Status |
| --- | --- | --- | --- |
| 6-4 | 244 | Outside linebacker | In the thick of the competition for playing time at outside linebacker |
Beal in 2017: Beal had a solid fall as a redshirt before coming down with mononucleosis prior to the spring. Once recovered, Beal continued to catch the eye of Smart who praised his efforts as a pass rusher, stating "he's exactly where we thought he would be coming out of high school."
Beal in 2018: Beal - as do all the team's young outside linebackers - have to play with more discipline - but the talent is certainly there. Although D'Andre Walker and Walter Grant are the projected starters at outside linebacker, Beal has an excellent opportunity to make a big impact for the Bulldogs at the position this fall.