QB guru gives thoughts on Justin Fields training with Deshaun Watson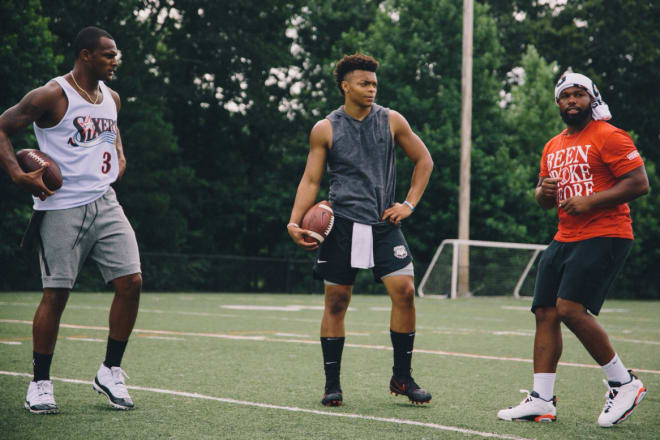 Last Saturday, the Bulldogs' Justin Fields continued his summer workouts, albeit in a different setting than the University of Georgia. Still, he was receiving instruction from someone he's quite familiar with. At North Park in Alpharetta, Ga., the freshman signal-caller worked out with Quincy Avery, one of the nation's leading quarterback coaches, who began training Fields when the current Bulldog freshman was in the ninth grade.
"He can make all the throws—and to be able to do that while also being such a dynamic runner, Justin is a special individual," Avery told UGASports regarding Fields. "I don't think of him as a dual-threat quarterback, but rather a pocket passer who adds an element of being able to do things with his legs very few quarterbacks can do."
Avery was a wide receiver at Atlanta's Morehouse College from 2005-2008 who finished his career ranked ninth in school history in receptions. He was a volunteer offensive coach at UCLA for a few years before becoming the founder of the Quincy Avery Quarterback Academy. Since then, he has partnered with private quarterback coach Sean McEvoy of Premier Quarterback Training recently to launch Quarterback Takeover.
According to Avery, he has trained 140 Division I and II quarterbacks, including University of Tennessee record-breaking quarterback and fourth-round pick Josh Dobbs, former Buffalo Bills' starting quarterback Tyrod Taylor, seven-year NFL veteran T.J. Yates, and, likely the most distinguished of them all, former Clemson all-time great and current quarterback of the Houston Texans, Deshaun Watson.
In fact, Avery was training Watson last week when he received a text from Dwayne Haskins, Ohio State's starting quarterback, who wanted to train with the instructor. With Watson and Haskins present, Avery thought it'd be a good opportunity for Fields and Florida freshman quarterback Emory Jones to join the trio for a 90-minute session. Getting a flat tire on the way to the park, Jones ultimately wasn't able to attend.
Fields has been compared to Watson—a comparison Avery finds difficult to make, even in recalling when the latter just came out of Gainesville (Ga.) High School and was entering Clemson as a freshman.
"They're both tremendously skilled—that's obvious," Avery said. "But I wouldn't compare the two as quarterbacks. I wouldn't even say they remind me of one another. They're just on completely different levels."
According to Avery, what separates Fields amongst his peers is "what's above the neck more than anything"—an attribute the trainer observed as a Core Coach when Fields was named MVP in 2017 of the Elite 11, a premier annual competition for high school quarterbacks throughout the nation.
"The information we loaded up those [quarterbacks at the Elite 11] with, like an NFL playbook, we made it difficult for them. But, I'd never seen someone more prepared to do the things we wanted them to do, and at such a high level, than Justin did," Avery said. "He not only has the ability to throw the ball and drive the ball, but he can throw the ball with much anticipation—and to do all those things, that's not something you see from an 18-year-old."
"[Justin Fields] not only has the ability to throw the ball, and drive the ball, but he can throw the ball with much anticipation—and to do all those things, that's not something you see from an 18-year-old."
— Quincy Avery
As far as what Fields needs to work on or improve upon, according to Avery, it's simple—the little things.
"Justin just needs to continue to refine his game—just improve upon all the little things," Avery said. "To just keep practicing like he's going to play in a game is, I think, a big deal for him."
Speaking of which, Avery expects to see Fields play this season.
"I'm sure Justin is going to see the field at some point. It would be silly for him not to," Avery said. "It's really about him coming along and learning the playbook, but the thing about Justin is he's so smart. He goes after and attacks information so well that there's no way he won't come away with knowledge of the playbook—and, from there, he'll be ready to play when he's called."
As far as when Fields is called, would it be possible for him to eventually unseat Fromm at quarterback, in a similar way to Fromm's replacement of Jacob Eason (whom Avery has also worked with) last season? According to Avery, that is much easier said than done.
"It's tough to take someone out of the game, like Jake Fromm, just because of the things he's already accomplished," Avery said. "Jake took his team to the National Championship game after unseating one of the most highly-touted quarterbacks coming out of high school in a long time (Eason)."
Still, Avery added that Fields has entered Georgia under different circumstances at quarterback than when Fromm did a year ago.
"The difference between the Jacob-Jake situation and Jake and Justin's situation is that there was maybe nothing keeping Jake from doing what Jacob Eason could do," Avery said. "But, there are things that Justin can do that no one else can."