Preseason preview Part 1: Dawgs to lean on pitching
Wondering why you're seeing Georgia's baseball team get so much preseason love from the various websites and preseason magazines? Look no further than a starting rotation that has the potential to rank among the nation's best.
Junior right-hander Emerson Hancock and sophomore Cole Wilcox give the Bulldogs a couple of draft-eligible power arms that look to be among the most talented in all of college baseball. Both players figure to be picked in the top half of the first round in the upcoming June draft, with Hancock projected by some to be the top overall pick.
Add in junior lefty C.J. Smith. The trio will headline a pitching staff that Stricklin and pitching coach Sean Kenny will lean on to help earn a trip back to the NCAA Tournament as a national seed for the third year in a row.
The Bulldogs officially start preseason practice on Friday, and they'll bring confidence to the ramp-up toward a new season.
"We feel we've built our pitching staff to the point that we've got depth and we've got experience, and that's something we've been doing for the last several years," head coach Scott Stricklin said in an exclusive interview with UGASports. "When you're able to put an Emerson Hancock out there on a Friday, a Cole Wilcox on Saturday, and a C.J. Smith on Sunday, that's a ton of experience and a lot of high-level talent, too."
Stricklin isn't serving up a plateful of hyperbole. Hancock and Wilcox are the real deal.
Not only do both pitchers tickle the radar gun in the upper 90s—they also include knee-buckling sliders in their respective four-pitch repertoire, that will have scouts flocking to Foley Field.
All three will head into preseason practice 100 percent physically.
After electing not to have them throw during the fall, both Hancock and Wilcox tossed live batting practice Tuesday afternoon.
"We just decided as a staff, why get them going in the fall to throw 10 innings, then shut them back down, when we can let them lift and condition a little bit longer?" Stricklin said. "They both threw yesterday during live batting practice. They're 100 percent, and right now, that's what we're projecting for Friday and Saturday: Emerson and Cole. With zero restrictions, they're ready to go."
So is Smith, a former two-way player, who will focus solely on pitching moving forward.
The junior left-hander, whose fastball can touch 94 mph, was hampered the latter half of last year with a stress reaction in his back that kept him out of postseason play.
But like Hancock and Wilcox, Smith is fully healthy and ready to go.
"Last summer was frustrating for him, because it was a whole lot of doing nothing. When you have an injury like that, you basically just sit out, so this summer was him not doing anything," Stricklin said. "He came back in the fall and felt better. You can see his body language was better as his activity picked up. He felt better and better, so he's 100 percent, and he's actually got a throw today. He's ready to go, and right now we've got him in that third spot."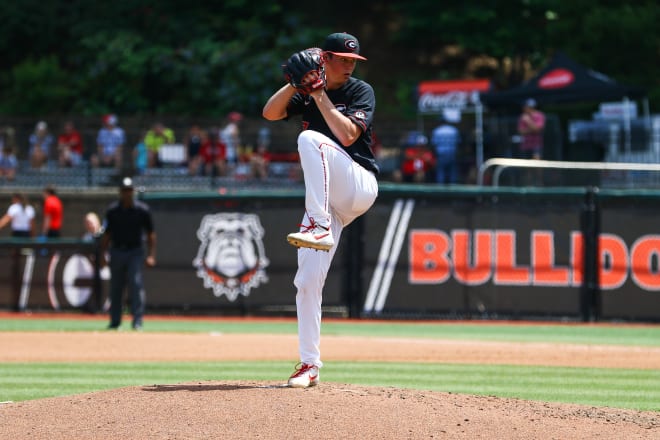 Projected starting rotation
| Name | Class | Ht/Wt | 2019 Stats |
| --- | --- | --- | --- |
| RH Emerson Hancock | Junior | 6-4/215 | 8-3, 1.99 ERA, 0.84 WHIP, 90.1 IP, 97 K, 18 W, 58 H |
| RH Cole Wilcox | Soph. | 6-5/240 | 3-2, 4.07 ERA, 1.42 WHIP, 59.2 IP, 64 K, 38 W, 46 H. |
| LH C.J Smith | Junior | 6-1/191 | 3-3, 4.30 ERA, 1.26 WHIP, 46 IP, 38 K, 20 W, 38 H |
For those wondering about pitching depth, apparently, it's not a concern, despite the loss of Tony Locey, Tim Elliott, Zac Kristofak and closer Aaron Schunk.
Will Proctor is working way back from shoulder surgery, but the presence of veterans like Ryan Webb and Justin Glover should prove to be quite beneficial to Georgia's cause.
Both lefties, Webb gives the Bulldogs a power left arm out of the bullpen while Glover may not throw as hard, but is extremely tough on left-handed hitters.
Returnees like redshirt freshman Garrett Brown, sophomore Jack Gowen, sophomore Darryn Pasqua, senior Logan Moody and senior Trevor Tindor will help bolster the bullpen, but it's a quartet of freshmen who Stricklin feels could ultimately put their respective stamps on the program as early as this year.
Six-foot-6 right-hander John Cannon may be the biggest to watch.
Cannon boast a fastball that reaches 96, a plus-slider and an excellent changeup, which he used to strike out three batters against Florida in October's exhibition in Jacksonville prior to the Georgia-Florida football game.
According to Stricklin, Cannon could work his way into the rotation as the team's Tuesday night starter, or perhaps a seventh-inning reliever.
Another candidate for mid-week starts is fellow freshman Michael Polk, who worked a 1-2-3 seventh against the Gators topping out at 95 mph, along with hard-throwing righty Will Childers and Brandon Smith, who round out the group.
The role of closer could be handled a different way than last year when Aaron Schunk was the primary option, finishing with 12 saves.
"I'm not sure if we're going to have a specific closure like we had with Shunk in the past," Stricklin said. "It might be Webb, it might be Justin Glover, it might be Jonathan Cannon, it might be Will Childers. All those guys may be splitting."
Thursday, we take a look at the position players and whether or not Stricklin believes offense will be an issue.
Other pitchers to watch
| Name | Class | Ht/Wt | 2019 Stats |
| --- | --- | --- | --- |
| RH Logan Moody | Senior | 6-2/206 | 1-0, 4.07 ERA, 1.20 WHIP, 24.1 IP, 33 K, 14 W, 15 H |
| LH Ryan Webb | Junior | 6-1/196 | 1-0, 3.75 ERA, 1.25 WHIP, 24 IP, 27 K, 11 W, 19 H |
| LH Justin Glover | Senior | 6-1/202 | 1-0, 2.79 ERA, 1.03 WHIP, 29 IP, 28 K, 15 W, 15 H |
| RH Will Proctor | Senior | 6-1/191 | 3-0, 4.35 ERA, 1.49 WHIP, 10.1 IP, 15 K, 5 W, 10 H |
| RH Dan Pasqua | RS-Soph | 6-4/191 | 1-0, 1.20 ERA, 1.13 WHIP, 15 IP, 11 K, 4 W, 13 H |
| RH Trevor Tindor | Senior | 6-4/215 | Redshirted |
| RH Garrett Brown | RS-Fr. | 6-7/209 | Redshirted |
| RH Jack Gowen | Soph. | 6-1/212 | 0-1, 9.35 ERA, 2.07 WHIP, 8.2 IP, 10 K, 10 W, 7 H |
Freshmen
| Name | Height/Weight | 2019 stats |
| --- | --- | --- |
| RH Brandon Smith | 6-2/204 | Went 4-2 with a 2.08 ERA as a senior at River Ridge High |
| RH Jonathan Cannon | 6-6/207 | Went 5-2 with a 1.57 ERA and 59 strikeouts at Centennial High |
| RH Will Childers | 6-4/213 | 30th-round pick of the Arizona Diamondbacks. Went 3-2 with a 1.55 ERA at Lakeside (Evans) High. Uncle Terry was the starting catcher on Georgia's 1990 national championship team. |
| RH Bryce Melear | 6-2/164 | Went 6-3 with a 0.75 ERA with 76 strikeouts and only six earned runs in 55.2 innings at Greenbrier |
| RH Ryan Suppa | 6-2/200 | Went 3-0 with a 2.16 ERA at North Cobb Christian |
| LH Charlie Goldstein | 6-1/185 | Posted a 1.73 ERA in seven starts as a senior with 57 strikeouts in 40.1 innings at Alpharetta High. |
| RH Michael Polk | 6-3/205 | Led Cambridge HS in saves as a senior. |
| RH Cain Tatum | 6-8/199 | Went 8-1 with a 1.99 ERA with 80 strikeouts in 59.2 innings at Winder-Barrow. |