Opinion: Having open competition at QB good for all parties involved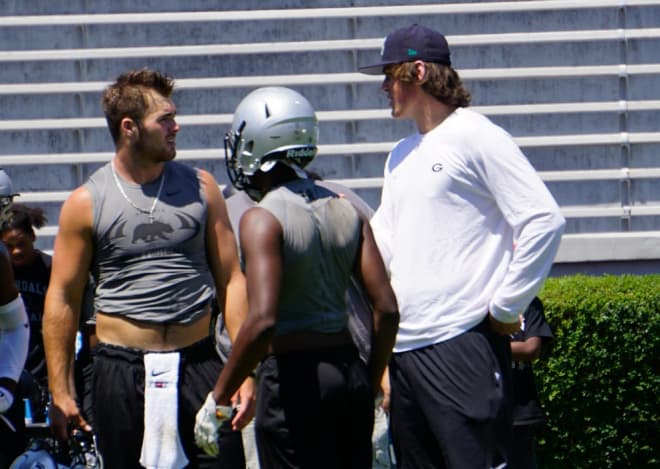 So, how will Kirby Smart and offensive coordinator Jim Chaney handle the situation at quarterback once spring practice gets underway next month?
If last year is any indication, the guess here is no different than what we saw a season ago when Jacob Eason and Greyson Lambert were battling for the starting job – it's going to be a open competition.
In other words, you're not going to hear anything from the Bulldog camp about a depth chart or anything resembling one.
There's going to be an open competition between Eason, Jake Fromm and presumably Brice Ramsey. That's just the way Smart likes it.
"I'm excited about the competition because it's going to push Jacob," Smart said a few weeks ago, during National Signing Day. "It already has."
Assuming an "open competition" is what we hear can we take Smart at his word? After all, Eason started all but one game for the Bulldogs last fall, and despite some first-year hiccups, showed plenty of promise and reason for fans to be excited moving forward.
Knowing Smart as long as I have, look for that answer to be yes.
As the old cliché goes, competition breeds success. If you're not being pushed, you're not going to push back.
Knowing Fromm like I think I do, that won't be a problem and no matter what side of the fence you ride in regards to Georgia's quarterback for 2017, that's good news for the Bulldogs.
So, can Fromm beat out Eason? Obviously, that's yet to be determined.
Although he had his ups and downs, Eason posted some very good numbers last season for a true freshman. Although his completion percentage (55 percent) is something he will need to improve, he did throw for 2,430 yards with 16 touchdowns and just eight interceptions.
Fromm will have his ups and downs as well. It would be naïve to think otherwise.
Like Eason, Fromm will be coming from a pass-first spread and must to get used to working under center, getting down the footwork and everything else that goes with being a pro-style QB.
He will. There's no real concern about that.
Fromm's reputation for being a hard worker preceded him long before he arrived in Athens as an early enrollee, and from what I hear, that's continued every single day since he's been on campus.
Eason, too, is doing his part. That's certainly good to hear
"Jacob's been great. He's been helping me on drops, how to make certain throws, so I'm learning from him, too," Fromm said recently. "He may only be a year older than me but I've got to treat him as a veteran because he has a lot of good experience, so I try to learn anything I can from him. He's been great with that."
But make no mistake, Fromm will push Eason as hard as he can. That's just how he's programmed. That's how he's wired.
"He gets off the plane from the (U.S.) Army All-American game and wants every receiver's cell phone number," Smart said. "He wants to go throw with them. If they're not out there throwing, he wants to ask them why they're not. That's the best thing for Jacob right now."
Ultimately, that's going to be the best thing for Georgia.
Everyone – no matter what line of work you're in – needs a little competition to be at your best.
Georgia's quarterback situation is no exception.
It should be fun to watch.