No. 25 in the books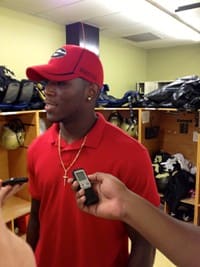 TAMPA, Fla. - Since setting foot on the
Georgia
campus for Dawg Night last month, there has been little doubt Tampa (Fla.) Plant safety Paris Bostick's mind about where he would play college football.
After clearing up some issues at home, Bostick made itofficial in an announcement as his high school Monday morning.
"It was a great environment and everything just clicked," Bostick said of his on-campus experience. "I just got that feeling."
After a heart-to-head with Georgia head coach Mark Richt, any lingering doubts Bostick may have had where erased.
"I talked to Coach Richt when I went to Dawg night and he's a great guy," Bostick said. "… I felt like we had a lot in common as people and that really strengthened me, going to Dawg Night and talking to the head man himself."
Bostick's performance at Dawg Night, where he earned the Sunshine State MVP, likely also answered any questions the Georgia staff might have had about him. Now, the Bulldogs have their third safety of the 2013 class, which has been identified as a position of need for the team.
"I see myself playing strong safety," Bostick said. "I love to hit and I'm real good at finding the ball carrier but wherever they need me that's where I'm going to play but my first position is safety."
As a junior at Plant last season, the three-star Bostick had 63 total tackles, one sack and three interceptions. He had over 20 other offers, but in the end, it game down to Georgia and Arkansas.
"I feel great with the decision I made," Bostick said. "It was definelty a battle between Georgia and Arkansas, two great schools, but I think academics at Georgia were a big part of it."
Early in his high school career, Bostick struggled academically, according to his high school coach Robert Weiner. But now, Weiner holds up Bostick as an example to younger players.
"He's come such a long way," Weiner said. "Really, he started here with very low academics and I've never seen such a turnaround. I'm a classroom teacher myself and I was able to watch him in the classroom andthere's no question the amount of effort that goes in. We are probably more proud of that than anything else."
On the field, Weiner said he's often waffled about where to play the athletic Bostick, because of his terrific skill set.
"He's a physical kid, at 6-1, 225, he covers like a corner, has athletic skills like an offensive player and he can hit," Weiner said. "Had this thing gone on for a while he would have been one of these kids that gets 50-60 offers from schools all over the country."
Bostick had originally planned to announce his decision last month, but he and his mother disagreed over the process. Because he's only 17, Bostick elected to become legally emancipated and completed the process last week. He's now a legal adult and no longer required his mother's consent to sign a letter of intent.
"You have to bounce back up to everything you fall from," Bostick said. "… Going through the things in life, nobody's perfect and I've learned that."