NFL Draft: Top five LB heading into the Combine
The NFL Scouting Combine is right around the corner. Here is a pre-combine breakdown of our top five linebackers heading into Indianapolis.
MORE PRE-COMBINE POSITION RANKINGS: QB | RB | WR/TE | OL | DT | DE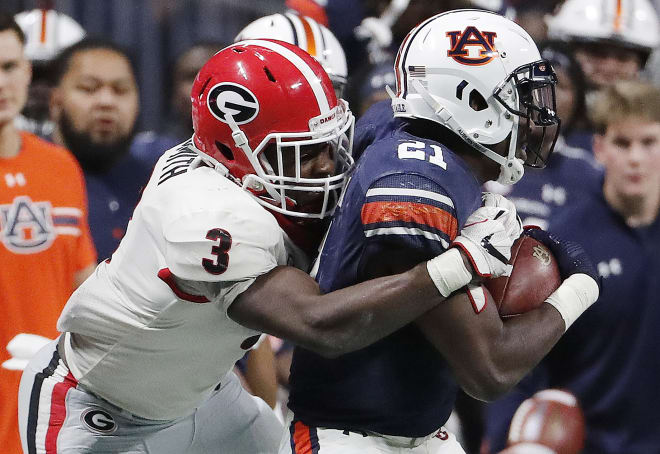 Recruiting: On National Signing Day, Smith committed to UCLA, but did not sign and fax his letter of intent. He decided to reopen his recruitment and less than two weeks later, Smith picked Georgia over the Bruins, Michigan and Texas A&M.
Career stats: In three seasons at Georgia, Smith finished with 252 tackles including 20.5 for loss. This past season as the Bulldogs went to the national title game, the former five-star totaled 137 stops and two fumble recoveries. All 6.5 of his sacks happened this season.
Buzz: Smith could be the first linebacker taken off the board and he could be a top-10 pick but will teams be spooked that he's slightly undersized?
Farrell's take: Smith has emerged as the best quick-twitch option at linebacker in the entire draft and scouts are overlooking his lack of length. When Smith decided not to head West and delayed his recruitment, I didn't think a ton of it because I was still iffy on how effective he would be at the next level. Man, was I wrong. He's an absolute terror, and you could argue that no linebacker in the country arrives to the football faster. He's a quick-twitch kid, has added good size and someone will covet him highly as a terrorizing outside linebacker.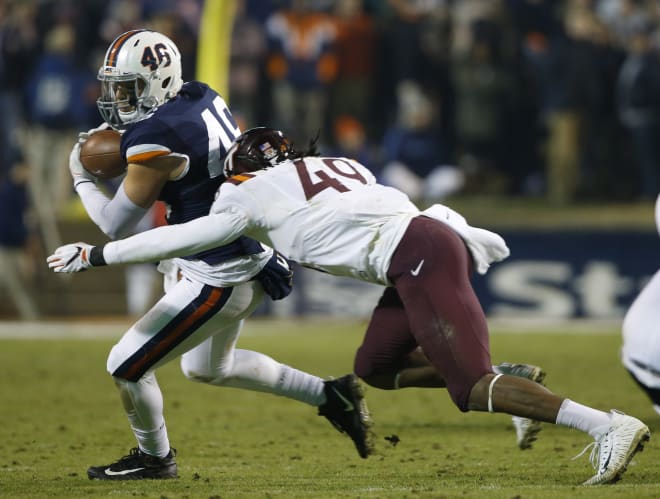 Recruiting: Edmunds decided to play with his brothers at Virginia Tech and committed to the Hokies in the summer before his senior season. His father played at Maryland. The Terrapins were the other major contender in his recruitment.
Career stats: Edmunds had 213 tackles including 33 for loss and 10 sacks during his three-year career at Virginia Tech. This past season, he added three forced fumbles.
Buzz: Edmunds has the athleticism and the speed to be special at the combine, which could shoot him higher than Smith and every other linebacker.
Farrell's take: With good length and a great frame to build on, Edmunds was a four-star out of high school who had his senior season cut short with a broken collarbone. Edmunds had good athleticism, projected as an outside linebacker with good speed and perhaps was a bit underranked coming out. His tackling ability has improved greatly in college under Bud Foster and he could push up the rankings if he has a great combine.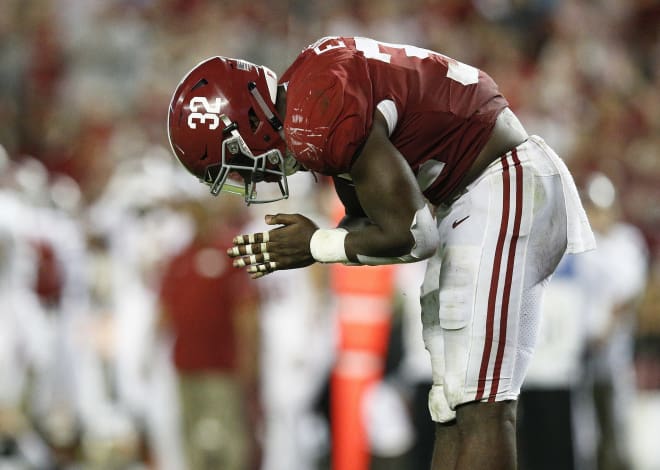 Recruiting: From Auburn, Ala., with his father playing for the Tigers and his mom graduating from Auburn, it was a shock on National Signing Day when Evans picked Alabama. Auburn football seemed caught off-guard as well since it released on its Web site a Signing Day profile of the five-star linebacker.
Career stats: In four seasons at Alabama, Evans compiled 150 tackles including 23.5 for loss and 15 sacks. He had a forced fumble and a fumble recovery in each of the last two seasons.
Buzz: With Evans' physical ability and ranginess, the Alabama linebacker could fit in 4-3 and 3-4 defenses, which means a first-round pick is a strong possibility.
Farrell's take: Evans was a quick, athletic linebacker who played with the speed of an outside guy but could hit like an inside linebacker. I remember he completely laid out future teammate Cam Robinson at the Under Armour All America Game practices when the offensive lineman, who had 100 pounds on him, tried to get to the next level. Evans was great at shocking and shedding opponents and worked well off of contact, and he could also cover in space and get skinny when he needed to.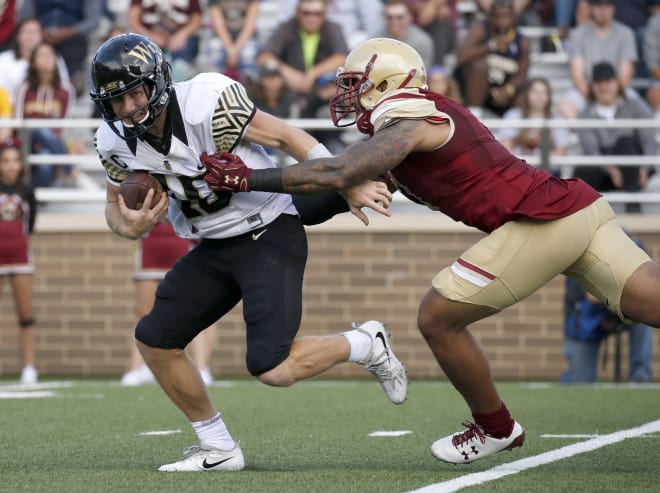 Recruiting: Landry committed to Boston College in April before his senior year. In October, Landry backed off that pledge and named Miami, NC State and Ohio State as his top three. Shortly after naming his new top three, Landry recommitted to the Eagles.
Career stats: Rated as a four-star defensive end out of Fayetteville (N.C.) Pine Forest, Landry finished with 158 tackles (48 for loss) and 25 sacks. In his junior season, he totaled 22 tackles for loss and 16.5 sacks.
Buzz: Can Landry learn to be more than a sprinter off the edge and develop more moves or is standing him up and playing him as a hybrid the smartest move?
Farrell's take: Landry has had a solid but not spectacular season, but scouts still love him as a hybrid guy and a 3-4 linebacker or 4-3 stand-up edge guy. I remember watching film of defensive tackle Lamont Gaillard (Georgia's starting center) and seeing this defensive end come off the edge and make play after play. That was Landry, who we made a four-star after that. Landry was undersized but he was strong, quick and had a tremendous shoulder dip. He's turned into an elite pass rusher in college and has surpassed his rating.
Recruiting: Okoronkwo was committed to Oklahoma State since the summer before his senior season, but in December he switched his commitment to Oklahoma. Okoronkwo was ranked as a defensive end in high school.
Career stats: In four seasons at Oklahoma, Okorokwo finished with 162 tackles (33 for loss) and 20 sacks. He totaled 71 and 75 tackles, respectively, the last two seasons.
Buzz: Putting up big stats has not been a problem for Okorokwo but does he have the requisite size to move up from the middle rounds?
Farrell's take: A potential hybrid guy, Okoronkwo is a terrific pass rusher and is being looked as a specialist in that regard. He didn't have great size out of high school, but he could get around the edge, was sneaky strong and powerful. He ran track, was a weight room warrior and, as a flip from Oklahoma State, he was an important get in the 2013 class. He has played above his ranking this past season and has the athleticism to convert from end to linebacker in the NFL. His non-stop motor and energy makes him a leader on the Sooners' defense.