Mental toughness key when it comes to building Smart's offensive identity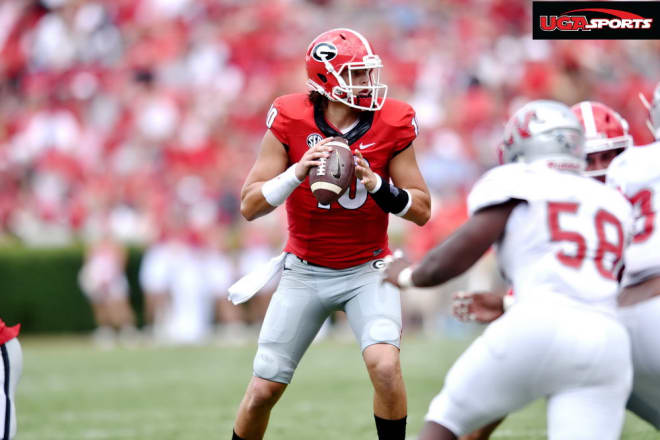 So, what kind of identity does Kirby Smart want his offense to have for the rest of the 2016 campaign?
The Bulldog head coach was asked that very question during Wednesday's SEC Teleconference, and how that figured into to his choice of Jim Chaney as his offensive coordinator.
"What I looked for when I wanted to create an identity is one of mental toughness where we can run the ball, but somebody that's also good [with] experience throwing it," Smart said. "That's what we looked for in a coordinator, one that had SEC experience, can throw it, can run it, can do both. You cannot be one-sided to win our league. You have to be able to do both."
So far, the results have been mixed.
Georgia struggled running the ball against FCS Nicholls, an effort that obviously didn't live up to Smart's standards.
Which brings us to Georgia's quarterback situation and the ongoing competition between Jacob Eason and Greyson Lambert.
Smart was also asked what he thought of Jacob Eason's play last week (11 of 20 for 204 yards) and whether or not the freshman was in a good place mentally.
"I think he's in a good place mentally. Jacob made a couple of miss-reads, he didn't look at the right thing first, but he had some really good plays, too. He stayed in the pocket, he threw some good balls and is really at his best when he makes those downhill throws and showed some good velocity on the throws," Smart said. "But he managed the huddle much better than he did the previous game so there was not a lot of lows offensively that were his fault. Some of that was just the inability to run the ball and play with toughness and we need to play with that. He handled things much better than he did the first game and we hope he continues to show that kind of improvement as we move forward."
No, Smart has yet to decide who will start Saturday night's game at Missouri (7:30 p.m., SEC Network).
"We've got to get through today's practice, look at some things and try to make a decision from there," Smart said. "But we're not ready to do that now."