McGhee commits to Georgia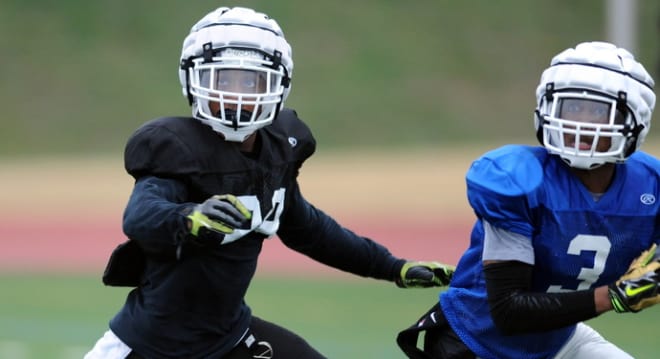 morning, following an impressive junior day, he made the news official.
"It's just home. It feels like home every time I visit. I can't help but light up
love Coach [Mark] Richt, and I want to ball out."
The Bulldogs were long thought to lead the way, and the three-star defensive
back says that's not a misplaced assertion.
"Yes, that's been the case. There's been a couple of times when I was open to other schools, but lately, it's just been Georgia,"
McGhee said. "I loved them, and they showed me love back. I wanted to be a Dawg."
Perhaps more importantly to McGhee, the Dawgs wanted him back. Coaches were
clear during yesterday's visit that he would be called upon to bring others into
the mix.
"They expect me to lead the class and go ahead and start it off." McGhee said.
"They're on me hard, and
they want me to get the other guys in. They expect me to come in and have some
Ridge. He's another big-time corner in the state. I've got a lot of guys in the
state, but not only here. We're looking at the whole country. As soon as I
finish this plug, I'm going to start recruiting."
"country, old school" ways.
"Coach Pruitt plays about five or six defensive backs at a time, because he's an
old country guy." McGhee said. "He plays a lot of DBs. There will be times we'll have six DBs,
and they could be freshman. It doesn't matter. If you can play, you can play.
He'll put you on the field. That's what I like about Coach Pruitt, he's just
country and old school, and I like that a lot."
Pruitt will look to use the versatile athlete at spots across the defensive
backfield, including filling some rather large shoes that have just been
vacated.
"I can play anything on the defensive side of the ball." McGhee said. "I play a lot of nickel,
especially at the Rising Seniors game. I'm a lockdown corner, and I can play
and blitzing, and I think Jeremy Pruitt sees me playing a little bit of that
spot."
The timing was right for McGhee, who feels his final questions were answered in
regards to campus life.
"I knew it." McGhee said. "I just had to see if outside of football it's where I'd be
comfortable, like going to classes or in the buildings. It was just the overall
feel of the campus. That topped it off and sealed the deal. My
family and I talked about it the whole ride back, and they supported me. They're
Dawgs now. They're supportive."
Though there's still plenty of time to go in the process, McGhee says, barring
something crazy, he's solidly committed to the Bulldogs.
"It's a hard commitment." McGhee said. "I'm solid. It's a hard commit. You know, something
crazy could happen, but I'm a Dawg. I'll be signing Georgia papers. Just wait for 2016. We've got North Carolina the first game of the
season, and we're looking forward to the start. I just want to say 'Go Dawgs.'
Tell everyone I've got the state on lockdown."