Jake Fromm discusses early start at Georgia
TUCKER – Make no mistake, Jake Fromm has every intention of competing with Jacob Eason for Georgia's starting quarterback job.
That's not all.
Keeping a good friendship and working relationship with the rising sophomore is going to be important to the former Houston County standout, too.
No, Fromm certainly isn't anticipating any problems there.
Both quarterbacks have already developed a close bond and help each other out every day. But when you're going for the same starting job – especially one as high a profile as quarterback – the competition can sometimes get intense.
"It's tough. You have to do it the right way. It's a thin line you're walking on, and you try not to step either way," Fromm said. "But at the end of the day, you are playing football. You've really just got to be sincere, a sincere person, compete and everybody has to respect you for that."
From the sound of it, Fromm certainly seems like someone who's going to give his best shot.
The early enrollee – in town Thursday night to pick up his Mr. Georgia Football award handed out by the Touchdown Club of Atlanta – said he's focused on the Bulldogs' season-opener against Appalachian State.
"You take it slow and steady and one step at a time. Don't try to do anything too fast or too fancy. It's a slow process," Fromm said. "We've got 220-something days before the first game, but I'm going to treat every single day like it's the last."
Fromm said Eason has gone out of his way to make him feel welcome, and is helping him every day with different aspects of his game.
"Jacob's been great. He's been helping me on drops, how to make certain throws, so I'm learning from him, too," Fromm said. "He may only be a year older than me but I've got to treat him as a veteran because he has a lot of good experience, so I try to learn anything I can from him. He's been great with that."
Can Fromm beat out Eason? Obviously that's yet to be determined.
Although he had his ups and downs, Eason posted some very good numbers last season for a true freshman. Although his completion percentage (55 percent) is something he will need to improve, he did throw for 2,430 yards with 16 touchdowns and just eight interceptions.
Fromm said he and Eason haven't discussed the competition to come.
"We haven't really talked about it, you just kind of know," Fromm said. "That's what Coach (Jim) Chaney is doing now – he's looking for someone to replace me. That's the way it goes. It's college football now. You've just got to take it one step at a time."
Fromm knows he still has much to learn.
"I'm going to try and learn as much as I can about the offense, try to learn where to go, when to go, and how to do it," he said. "There's something to learn every day."
But so far, so good.
"I love it. I love college. The experience has been great so far. I love the workouts, I love working with the guys, I love throwing the ball around … the only thing I probably I wish I had more of was some sleep," he said. "It's been incredible so far."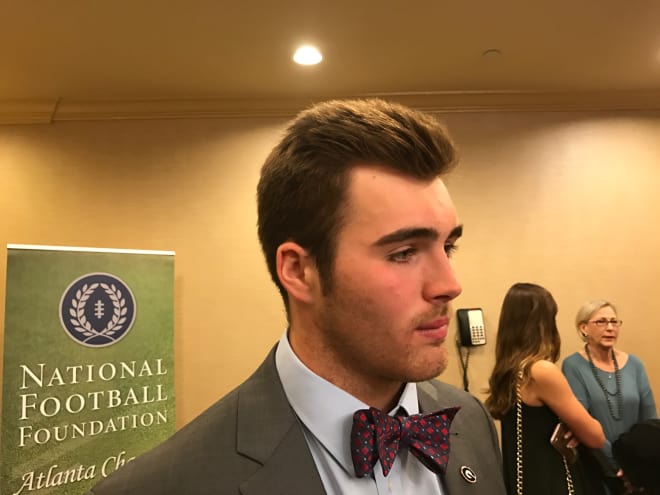 The Touchdown Club of Atlanta supports High School Football in Atlanta, Georgia and the nation. Since its founding in 1938, the club has continued the tradition of honoring the great players, coaches, and officials in game of football in Atlanta and throughout the nation.
The club is currently accepting members for the 2017-2018 season (membership is capped at 150) and includes access to fall lunch meetings and the annual awards banquet in January. You can join through the following link: https://touchdownclubofatlanta.com/join-tca/#account/join
If you have questions or would like more information you can email Eric Durden, Membership Chairman at eric.durden@gmail.com