Four-star DE Bill Norton makes his choice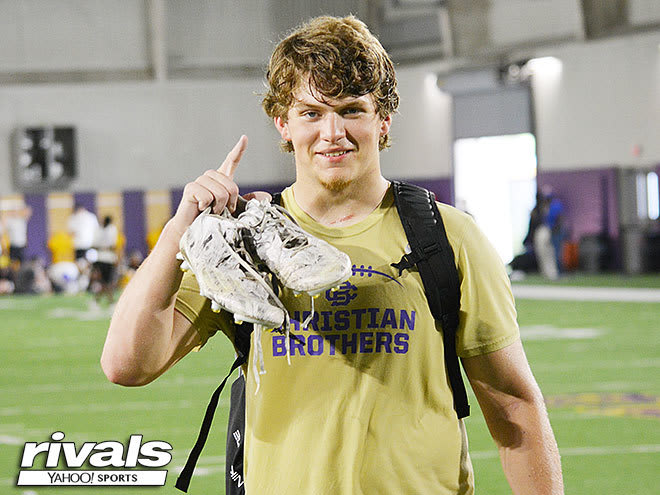 Four-star defensive end William Norton wasn't like a lot of recruits when it came to choosing the college of his choice.
No flash and dash guy here.
No, Norton was looking for substance when it came to selecting his college home and Sunday night the 2019 target committed to Georgia, the one school he felt offered him the total package.
"I obviously had a long talk with my parents, my coach. I've been thinking about this for a long time now. I kind of wanted to go around to see other schools, to see what would be the right fit, and see if I saw some things that I hadn't seen before," Norton said via telephone to UGASports. "I checked out a pretty good amount of schools, but after a good talk with Coach (Kirby) Smart and Coach (Tray) Scott, I feel that Georgia will fit me both academically and athletically."
The 6-foot-6, 265-pound Memphis native certainly had plenty of options.
North's bio on Rivals.com showes the rising senior at Christian Brothers High with 12 offers, including ones from the likes of Penn State, Notre Dame and Oklahoma.
But in the end, it was Norton's familiarity with Georgia and his future position coach Tray Scott that paid off.
Norton last visited Athens back on March 5, his fifth trip to Athens in the past year, two of which were to see the Bulldogs play Mississippi State and South Carolina.
"I was watching how hard they play. On my team, our defense tries to play really hard, all swarm to the ball, don't stop until the whistle stops. The way they play is very similar to the way we try to play at my school," he said. "I love the way they play ball, laying their body out, killing people. I love the culture of the game and how they play."
It didn't hurt that North's strength coach at Christian Brothers – John Thompson – already had a relationship with Scott.
The two were together at Ole Miss in 2012 when Thompson was the Senior Assistant Strength and Conditioning Coach and Scott was a graduate assistant on the football staff.
"He (Thompson) first introduced me to Coach Tray, that's when it first happened. Not too many Memphis recruits are talking to Georgia because they've (the Bulldogs) got so much instate talent," North said. "So, for Coach (Scott) to take the time to form a good relationship over time has been good. I got to get good one and one work at the camp. I love the way he coaches and he's a great guy as well."