Eason looking to take the next step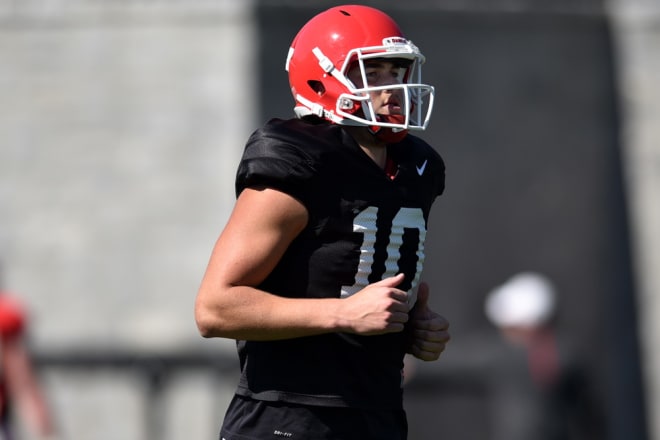 One of the main questions Georgia fans have regarding quarterback Jacob Eason is how much improvement the sophomore will make from his freshman campaign.
Apparently, progress is being made.
On Tuesday, Kirby Smart said the offense is "advancing along" in the passing game, trying some different formations, which the Bulldog head coach said is due to Eason and the work he's put in.
"Oh yeah, he's got a long way to go but he's come a long way. He understands the protections now. Last year, there were times he did, times he didn't. But he had a lot on his plate," Smart said. "To manage that offense is challenging coming straight in from high school ... I think he's in a better place. He's more confident, he's throwing the ball well and the wideouts are catching it."
The game, Smart indicated, is starting to slow down for the Washington native.
As a freshman, Eason threw for 2,430 yards – the fourth most by a UGA freshman - and 16 touchdowns, but there were the inevitable battles with inconsistency that created some concerns
His 55 percent completion rate was not what Smart and offensive coordinator Jim Chaney had hoped, and there were issues inside the huddle that caused some consternation.
But so far, Smart likes what he's seen and as a result the offense so far in practice has been more efficient and varied.
"There are things that Jacob can handle now, so we're able to do a few more things, like being able to open things up to run the ball as well as throw the ball. We've been able to give him some options to check into and out of things," Smart said. "If a guy can get you into a certain play that helps, and he's certainly more comfortable than he was at the end of the year last year."
Smart said Eason is starting to make his receivers' jobs easier as well.
"There's still some things at wideout we've got improve to get where we want to go," Smart said. "But Jacob is helping those guys out by putting the ball in some tight spots."