Dawgs lose a commit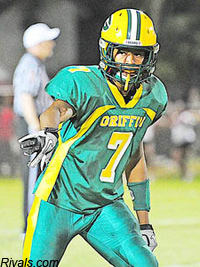 Georgia
's 2015 recruiting class is now down one player.
On Wednesday, Griffin High School standout
Christian Owens
released a statement saying
he was de-committing from the Bulldogs.
Owens confirmed his decision to UGASports.com's Jake Reuse.
Although Owens did not indicate exactly where he will sign, it appears SEC rival
Earlier Wednesday, an email was forwarded to Rivals from Owens announcing his
decision.
The statement read as follows:
"During these past two years, I have worked tirelessly both on and off the field
to represent my school, my family, and the University of Georgia as a solidly
committed recruit. However, after prayerful consideration and informational
discussions with my family, my coaches, my principal, and the University of
Georgia, I am excited to announce that I have chosen to attend the University of
South Carolina in January of 2015. I would like to express my appreciation to
the University of Georgia for their original scholarship offer, as well as to
the many UGA fans that have communicated with me over the past 2 years. I also
would like to express my gratitude to Coach Steve Spurrier and his staff for
welcoming me with open arms. May God bless you all. Go Gamecocks!
-Christian Owens"
Despite the statement, Owens told Chris Clark of GamecockCentral that he will
make his decision on South Carolina official in the coming days.
"Not yet," Owens told Clark. "I will after my visit (to South Carolina) next
week most likely."
Owens later confirmed in a text message to UGASports that he plans to enroll at
South Carolina in December, as indicated in his statement.
Owens' de-commitment leaves Georgia with 23 verbal commitments for the Class of
2015.