{{ timeAgo('2021-04-19 11:30:54 -0500') }}
football
Edit
Darnell Washington makes a big move forward
"You see it this year: He gets the signal, and he knows what he's doing right away. He's not thinking about it like he was last year."
— JT Daniels on Darnell Washington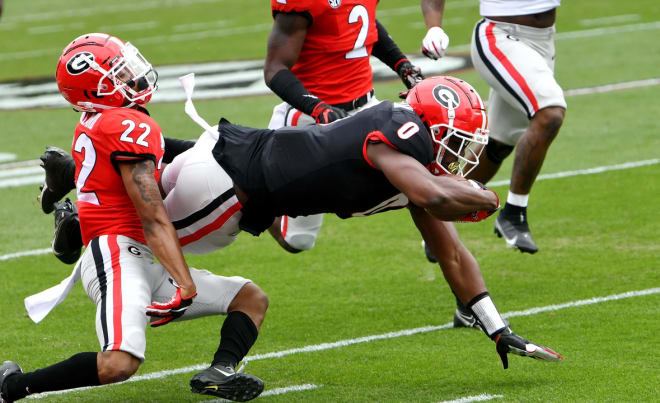 Given they were on opposite teams for Saturday's G-Day game, quarterback JT Daniels had a different view of tight end Darnell Washington than he ordinarily might.
He no doubt liked what he saw.
Washington led the Black squad in receiving, catching five passes for 84 yards, including a long play of 51 yards and a touchdown grab of 13 yards from Carson Beck. However, the yardage was not the most memorable part of the play.
The 6-foot-7, 280-pound sophomore swatting safety Dan Jackson away as if he were a mosquito brought out oohs and aahs from those in attendance.
"You definitely do see a development in him. Last year, when you're coming from high school to a real, coach (Todd) Monken NFL system in college, there's a shock that hits you right away, just because there's so much to it," Daniels said. "You see it this year: He gets the signal, and he knows what he's doing right away. He's not thinking about it like he was last year."
Washington played an important yet unheralded role for the Bulldogs as a freshman.
Although he showed big-play potential by catching seven passes for 166 yards, Washington's ability to use his large frame as an effective run blocker is what coaches put to the most use.
Just ask Auburn after last year's game in Athens.

The fact Washington was out catching more passes Saturday was certainly encouraging.
That's especially true considering the Las Vegas native missed much of the spring for undisclosed reasons, and according to head coach Kirby Smart, was just getting back into the offensive flow.
"He missed some time there, and I know his conditioning level is going to be important to him making sure he's really in shape," Smart said. "He's a great target. He's a big target; he's an athletic guy. He's a weapon. We have to find ways to utilize him both in the passing game and in the run game, because he's a weapon in both."
It will be interesting to see just how much.
Georgia fans have been clamoring for tights ends to play a more active role in the passing game for several years. Could this be the year those wishes come true?
Along with Washington, the addition of freshman Brock Bowers (three catches for 37 yards in G-Day) and John FitzPatrick gives Daniels and the offense three very capable options.
Having a year in the system has apparently made a big difference for the big man.
"Everyone that is new has a lot of mental errors. It's just new. In terms of his development physically, he's gotten a lot smoother in terms of getting in and out of breaks," Daniels said. "He's always had good instincts, but it's gotten even better to me in terms of understanding where the ball is going to be thrown. He's really taking advantage of his size."
Although Smart says there's still work that Washington needs to do, if the progress he's made is any indication, he'll be ready to become that defensive nightmare that everyone associated with the Red and Black has wanted to see.
"He's grown a lot. He's a lot smarter. He's in better condition," Smart said. "He's in a better mental toughness state. Part of being a good player is pushing through practice and being able to sustain. He struggled to sustain through tough practices last year; he's done that this year—he's practiced a little harder. He's doing some good things. He's still really big. He's 275, 280 pounds. He's a different kind of matchup guy."