College spreading NFL quarterbacks thin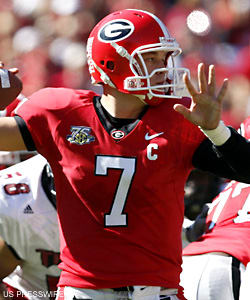 As offensive coordinators continue to look for innovative ways to put points on the board, it seems as though most of them have flirted with the spread offense. That system allows for more lanes to be open for the run or the pass, which in effect "spreads" the defense thin as defenders are forced to cover the whole field. While the scheme has seen great success in both college and high school football, there has been a drawback to its rise in usage.
Namely, there is a lack of pro-style quarterbacks ready for the NFL.
The spread requires a more athletic quarterback and the influx of those runners to the position that may seem exciting on the surface, but their lack of experience taking snaps from under center is seen as a detriment to their development professionally.
The recent NFL combine gave scouts a chance to see what players looked like running standard drills and workouts. What it did not do is provide film that shows a quarterback running a pro style scheme.
In a recent conversation on the NFL Network, former Tampa Bay Buccaneer head coach Jon Gruden weighed in. A former quarterback and known offensive guru, Gruden began with some high praise for a familiar college program.
"I like that football program they have up there at
Georgia
, under Mark Richt. That guy is a good football coach who runs a pro style offense," Gruden said.
He later added, "That's why you like watching Stafford, you like watching Sanchez play. Because you see them taking snaps from center, you see the three step drop. Some of the things that are going to happen to them in pro football have happened to them in college. But I do think some of the guys that are in the shotgun are going to be a work in progress."
Former 49ers head coach Steve Mariucci asked Gruden "Do you think it (the spread offense) is a detriment to the development of pro quarterbacks?"
Gruden reinforced how he feels about the spread, and again gave an endorsement to the Bulldog program.
"There is no question. The three step passing game, the play-action passing game that a lot of these teams run is not as prevalent as it used to be in college football. But I do see it at Georgia, and I like what I see out of this kid Stafford," Gruden said.
Some of the best college football teams recently have had a premier quarterback running a version of the spread. While those quarterbacks had great collegiate success, their experience has not translated to the NFL.
Alex Smith was so successful running the spread implemented by Urban Meyer at Utah he became the number one pick in the 2005 NFL draft. His athleticism and combine numbers were lauded, but he has struggled since entering the league. While the jury is still out on Smith, the 49ers may think twice before investing almost 50 million dollars into another spread option quarterback.
Vince Young was one of the biggest stars to come out of college the last five years. Texas altered their playbook to take advantage of his athletic ability, moving him to the shotgun and spreading three wideouts to allow him room to run if he chose to. He was immensely successful and his game against Southern Cal in the 2005 BCS title game was a remarkable individual performance. But since his rookie season, Young has had a tough time developing. NFL defenses adapted to counter his athleticism, and his confidence level dropped to the point to where he contemplated retirement.
College quarterbacks have taken notice of the spread's effect on NFL development. When Rich Rodriguez brought his spread offense from West Virginia to Michigan, high school All-American Ryan Mallett immediately made plans to transfer, ending up Arkansas with second year coach Bobby Petrino.
Players who may have put up great numbers and completion percentages in college spread offense are finding out they may have hurt their draft stock by doing so.
NFL scouts are breaking down current draft entries like Missouri's Chase Daniel, Texas Tech's Graham Harrell, and West Virginia's Pat White, and the consensus remains the same. These great college quarterbacks do not have enough experience in a traditional offensive scheme to be considered ready to take anything more than a few snaps in a modified and tailored playbook. That is why playing in a system like Georgia's has brought Matthew Stafford to the forefront of the 2009 draft class.
Blessed with elite arm strength coming out of high school, Stafford enrolled early as one of the most heralded prospects to ever set foot in Athens. Richt gushed at how his five star signee was the most talented quarterback he had ever coached. The fact that he is being projected as the number one pick in the upcoming draft has everything to do with his talent, but the pro-style offense Georgia employs doesn't hurt either.
Stafford is one of many top level quarterbacks that Georgia has either groomed or brought into the program over the last decade.
David Greene went from relative obscurity to becoming the winningest Division 1 quarterback and SEC career leader in yards gained. Richt's experience in developing quarterbacks at Florida State was also key in bringing in his first official recruit, North Clayton star and current Atlanta Falcon, D.J. Shockley.
The multiple pro offense run in Athens is very similar to what many NFL teams use. It allows the quarterback to scan the defense while walking up to the center, and making adjustments on his own at the line of scrimmage. Spread teams often limit their signal caller to only deciding whether to run or pass before snapping the ball. Some quarterbacks in the spread actually still look to the sidelines for the play call.
The draw of the system in place at Georgia is obvious. The current Bulldog team features four Elite 11 quarterbacks in senior Joe Cox, redshirt sophomore Logan Gray, and incoming freshmen Aaron Murray and Zach Mettenberger, who enrolled earlier this year. Mark Richt's willingness to allow open competition for the starting job has allowed freshman to excel in Athens. That philosophy and the team's consistent success have made Georgia a desirable destination for quarterback recruits.
Quarterback
Blake Bell
, a highly recruited prospect from Bishop Carroll high school in Wichita, Kansas, sees a NFL pipeline at his position forming in Athens.
"Coach Bobo and the staff do a great job preparing quarterbacks. Their offense is known for its NFL similarities, and I know they will continue to have success with whomever they bring in," says Bell.
Another of the top quarterbacks in the entire 2010 class, Skyline high school quarterback
Jake Heaps
has offers from over 20 schools from LSU to Washington. He recently gave UGASports his perspective on the current schemes for quarterbacks.
"Definitely when you look at high school and college spread offenses, they put up pretty numbers and open up the field, but if you look at how many spread quarterbacks are successful professionally, the numbers do not lie either," Heaps said.
Heaps then added how that will affects his decision process.
"All of the schools I am looking at in my top 10 are pro style offenses because that is my ultimate goal in the sport, to get to the NFL," said Heaps.
When he heard the discussion above on the NFL network, he instantly connected with what they were saying.
"Georgia runs that multiple pro offense well, while still catering to the strengths of their quarterback. David Greene was a classic drop back passer who was successful, Shockley showed he could make plays on the run at Georgia, and Stafford was a mixture who excelled at it all," said the Sammamish native.
Heaps continued, "When you look at that Georgia has done a great job developing quarterbacks, so that is why they are a very intriguing program for me."
Offensive schemes seem to run in cycles, as teams find systems that can exploit matchups on the field. Then the popularity spreads (no pun intended) as more teams jump on board. But after time passes, the defenses adapt and offensive coordinators are left back at square one. Georgia has settled on a consistent style of offense, the implementation of which has led to amazing success. The Bulldogs have avoided the latest offensive trends and worked to perfect the one they were running. The NFL has noticed. So have the recruits.