Coaching Gibbs and LeCounte 'every second'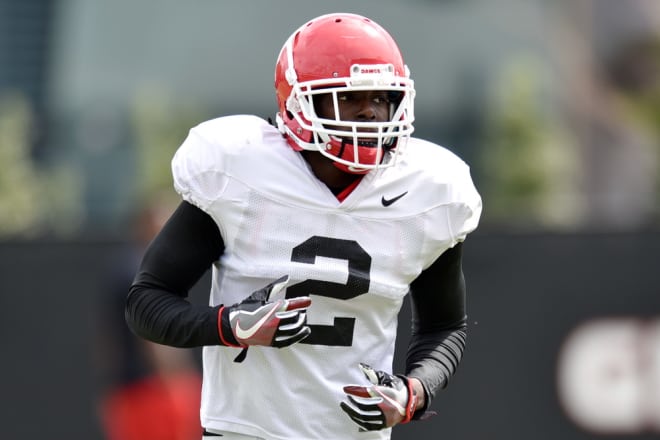 Kirby Smart will tell you that freshmen early enrollees Deangelo Gibbs and Richard LeCounte still have a long way to go.
Both defensive backs are getting a crash course this spring, preparing for what Smart hopes will be help in Georgia's secondary come fall.
"They've been a little bit of everywhere. (LeCounte) is actually at safety. He was at corner a little bit the other day when y'all (the media) were out there, but he's been at safety for two days now and continues to work a little bit at Star," Smart said. "Deangelo is at Star 70-80 percent for his reps, but he's still working at corner some, too."
Senior safety Dominick Sanders – who works extensively with both players – says being able to learn more than one position in the secondary will be key to whatever success they enjoy.
"It's tough, but the main thing is, the more positions you know in the back end, you'll know what's going on," Sanders said. "The main thing I tell the guys is learn them all because you never know where you're going to wind up. You might be a Star, but all of a sudden, coach decides he wants you at safety, so you need to know what to do."
Losses via graduation have both LeCounte and Gibbs in line for quick playing time this fall.
Currently, coaches see LeCounte as a potential replacement for Quincy Mauger at one of the two safety spots, while Gibbs is being groomed to replace Maurice Smith, who did such a great job last season at Star.
"As far as how I feel about them, they're still in a growing stage, a learning stage. I've got to be more patient with them because, obviously, I've got high expectations for them," Smart said. "They have high expectations of themselves, but they're not where they need to be yet so they've got a lot of meeting to do. But we'll keep working with them because I think both can be good players."
Sanders likes what he's seen.
"Those guys are good players. They pay attention in and out of the meeting room. The main thing is to keep them focused and make sure they keep their eyes in their playbook," Sanders said. "I tell them all the time, don't worry about mistakes, that's what we meet for, to get right for those mistakes and the next practice come out and improve from that mistake."
If they keep learning, Smart can live with the results.
"There's a lot of information out there and it's going fast. We practice fast and at a high tempo and they've got guys above them that know what to do. But both can run, both can strike a lick, both are competitors, so both aren't far away from being able to lead, being able to help on special teams, being able to compete," Smart said. "So, I like watching those guys. I love coaching them. I sit by them in the meeting room and coach them every second because I feel like they can help our team next year."