Camp Sunshine to hold virtual camp, UGA football will be involved
One of Georgia football's most beloved summer traditions is visiting with kids at Camp Sunshine, a program that serves Georgia children who have been diagnosed with cancer.
Camp Sunshine notified families last week that it could not offer camp in the traditional sense due to the coronavirus pandemic and medical recommendations from the CDC.
"For 37 years we have had that summer camp, so we're in new, uncharted territory," said Sally Hale, executive director of Camp Sunshine since 1987. She was a volunteer nurse at the first year of the camp in 1983.
The camp is creating "Sunshine 2.0," a virtual camp to enable personnel to safely serve their campers and foster their community for Georgia children fighting cancer. Part of the goal with the virtual camp is to include traditions that make camp special. That includes a partnership with UGA football.
"We are hoping we can connect with the team at UGA and the coaches," Hale said. "We have reached out to them. We're looking forward to some kind of partnership that we can continue."
Head football coach Kirby Smart says his team intends to continue the partnership in some form.
"Camp Sunshine has always been a special experience and opportunity for our football team, and we're working with them to explore options on how best we could be involved again this year," Smart said in a statement to UGASports.com.
"Camp Sunshine has always been a special experience and opportunity for our football team"
— Kirby Smart
The visit from the football team is always an anticipated day for campers.
"So many of these players are heroes to these kids," Hale said. "To them, it is a special day where they get to interact and play with their heroes. Now because of Coach Smart's personal relationship with Camp Sunshine and his brother having been a camper, it has a special connection."
In February, former Georgia safety J.R. Reed selected Camp Sunshine as his charity partner at the NFL Combine. It was a thrilling day for the camp.
"Oh my gosh. We were honored and the thought that his visits to camp and the connection with the kids had played such an important, meaningful part of his college experience, and that he wanted to take that forward with him- it just meant a lot to us."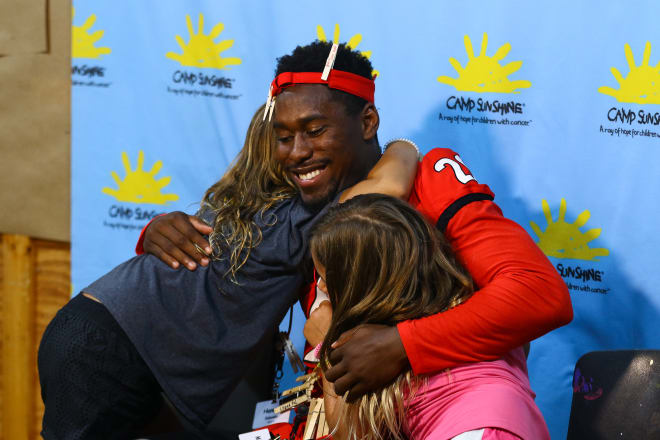 Hale says the Camp Sunshine team is committed to continue to serve families and has already held online events, including a virtual campfire and virtual bingo.
"We haven't cancelled our mission," Hale said. "Our mission is still to serve and enrich the lives of children with cancer and their families. We're going to do that. We're going to still bring a community to these families. We are serving these families by finding new and different ways to provide a special summer for these kids."
Camp administration says people can help them in a couple of ways. Financial donations are always important and allow the camp to serve families. People are also encouraged to check back as "Sunshine 2.0" is developed to see what supplies are needed for virtual camp.