Assembling an Ultimate Collection to Help Honor Our Veterans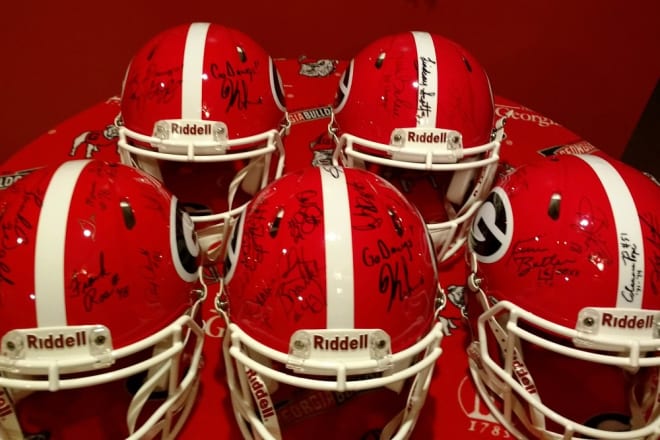 As President/CEO of Servants Task Force, a small 501(c) non-profit organization, Steve Rodgers has built a reputation for creating and assembling events which help raise money and awareness for other organizations, like the American Heart Association, the United Way, and the Ronald McDonald House Charities, to only name a few. Still, when decorated disabled veteran Tommy Clack, the President of the Walk of Heroes Veteran War Memorial, first approached Rodgers several months ago, no one could have imagined that what would be assembled could quite possibly result in the ultimate collection of Georgia football memorabilia.
Located in Black Shoals Park in Conyers, Ga., the Walk of Heroes memorial was vandalized nearly beyond repair last December by four individuals. Statues were torn down, plaques honoring service men and women were stolen, and the memorial's grounds were desecrated. In order for veterans and families to again tour the site, Clack asked Rodgers if he could help his organization raise the $250,000 it would take to return the memorial to its original pristine condition.
Rodgers set up the Ride 4 Walk of Heroes drawing, whereby a $25 ticket would win the choice between three 2018 Chevrolet automobiles—a Camaro LT, Traverse LT, and Silverado LT Crew Cab. Subsequently, former Georgia head football coach and athletic director Vince Dooley, a 10-year veteran of the U.S. Marine Corps, shot a promotional video for the event. Still, Rodgers needed more resources to reach his goal of a quarter of a million dollars—and then an idea was sprung when Riddell donated a few of its Georgia Authentic Speed Football Helmets.
"After talking to some of my friends who played football at Georgia, I thought instead of the winners of the helmets having to go out and get them autographed, I would get them signed beforehand, and they'd already be autographed for them," Rodgers said. "I decided I'd start with the signatures of the five living Georgia head coaches (Dooley, Ray Goff, Jim Donnan, Mark Richt, and Kirby Smart), the three Super Bowl MVPs who played for the Bulldogs (Jake Scott, Terrell Davis, and Hines Ward), members of the 1980 national championship team, some all-time greats who played beginning when Coach Dooley was head coach, but also some legends before that era, like Fran Tarkenton and Charley Trippi."
In reaching out to Georgia's legendary players and coaches, Rodgers soon discovered their former Bulldog teammates—the less recognizable names—wanted to sign a helmet, as well. Therefore, what is referred by Rodgers as "the Ultimate UGA Legends Collectors Helmet Set" now features far beyond legendary figures.
"Now, any player who played for Georgia who wants to sign a helmet, we want to give them an opportunity to sign," Rodgers said. "We're assembling an ultimate legends collection and, for Georgia, that includes everybody—anyone who ever put on the Red and Black."
Instead of multiple winners of the helmets, there'll be a single winner taking home the entire ultimate collection—and all for the price of just a $10 ticket. Currently, five Georgia helmets are fully signed, two are in the process of being completely signed (one held by Rodgers, the other by Travis Stroud, a standout defensive lineman during the mid-1990s), and more helmets have been ordered.
"We're just adding helmets as they're needed," Rodgers said. "Honestly, I've already had about 20 former players who want to sign one of the helmets contact me—and that's just in the last couple of days. Word has spread quickly, and there are Bulldogs all over this country wanting to sign the helmets."
And, apparently, even Bulldogs not in this country want to partake.
"Even Richard Tardits (star defensive lineman-linebacker, 1985-88), who is from and lives in France, told me he wants to sign, and said he will when he soon visits the United States and is in the area," Rodgers said. "For guys to sign, it's just a matter of them being in the area to do so."
For former players wanting their signature to be part of the collection, they should contact Rodgers directly at (478) 960-5838. As for anyone interested in purchasing a ticket for the drawing, go to the Ride 4 Walk of Heroes tab at WalkofHeroes.org, where, halfway down the page, there are five different ticket options to choose from, ranging from $10 to $100, for a chance to win the helmets and the choice of one of the three automobiles.
The drawing will be held electronically on November 12, or the Monday after Veteran's Day. Rodgers suggests all tickets should be purchased by November 1.
But there's more. After the drawing, the winner of the collection of signed Georgia helmets will have one more helmet coming to him or her—it's just a matter of when it'll come.
"We're going to save one helmet to be signed by the members of Georgia's next national championship football team—whenever that occurs," Rodgers said. "Per NCAA rules, we can't get signatures of players while they're still playing. But, once Georgia wins the national title, and after all those players finish playing, we will get their signatures on the last helmet, and will deliver that helmet to whoever won the drawing."
Thus, in the end, no one can be certain exactly how many helmets the winner of the drawing will garner. Let's just say, the prize will consist of a bunch of Bulldog helmets and autographs, an ultimate collection—and even more.
"The names and legacies of a bunch of guys who played and coached football at Georgia can live on for years through these helmets," Rodgers said. "Yet, at the same time, all the tickets purchased to win those helmets will help rebuild a park built in honor of our veterans."