Twenty-seven newcomers see first action with Dawgs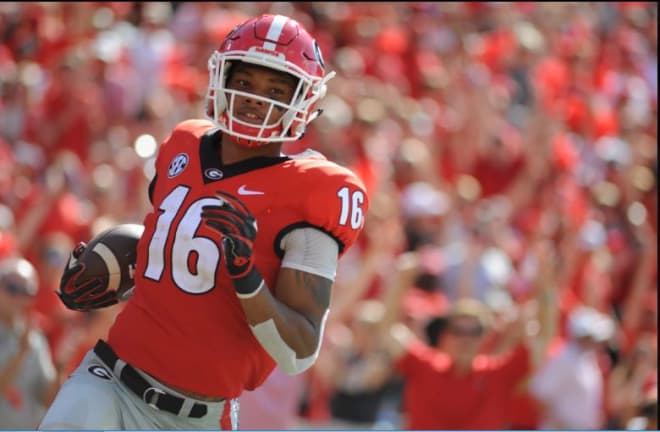 Cal transfer Demetris Robertson found a memorable way to make a first impression.
With Georgia leading 17-0, Robertson took his first touch as a Bulldog on a handoff from quarterback Justin Fields on an end-around. He didn't stop running until he had crossed the goal line for a 72-yard score.
"He had to show what he could do, that's all it is," teammate and close friend Mecole Hardman said. "That's the kind of play maker he is with the ball in his hands. We've got a lot of guys who can make plays in space, and he showed his ability today."
Robertson wasn't the only newcomer who hit the ground running for the Bulldogs. According to Saturday's post-game stat book, 27 newcomers (two transfers, seven redshirt freshmen, 18 true freshmen) saw action for Georgia, a fact that pleased Kirby Smart as much as the victory itself.
"I think the biggest thing we got out of today was experience," Smart said. "We had a lot of players today who didn't have experience, who gained experience."
Transfers who played
| Player | Position |
| --- | --- |
| Demetris Robertson | Wide Receiver |
| Jay Hayes | Defensive Line |
| Devonte Wyatt | Defensive line |
Defensive tackle Jay Hayes was making his first appearance with the Bulldogs after coming to Athens as a grad transfer from Notre Dame.
Hayes felt he measured up to the high expectations of being a Bulldog. "I believe I played to the standard," he said. "We have to go back and watch the tape, but to have a shutout, that's a great feeling."
Hayes was playing his first game with the Dawgs after spending the previous three seasons at Notre Dame.
"There were a lot of emotions going through my head. I was just soaking it in and being grateful," Hayes said. "Suiting up in a different uniform—it really hit me when I got to the locker room."
Robertson's run brought the sellout crowd to its feet.
"I was happy for him. For his first touch to be a touchdown, it was incredible and awesome, for a kid who has been all over the country and will tell you he should have come here the first time," Smart said. "He's here now, and that was his first touch, but he's not in the condition he should be in, and he'll tell you that, too. He ran out of gas on that run. In the SEC, that might not have been a touchdown. We want to encourage him to continue getting in shape, so he can make that a touchdown when we play an SEC opponent."
Redshirts who played
| Player | Position |
| --- | --- |
| *Isaiah Wilson | Right tackle |
| Matt Landers | Wide Receiver |
| Eric Stokes | Cornerback |
| Latavious Brini | Safety |
| Robert Beal Jr. | Outside Linebacker |
| Netori Johnson | Offensive Line |
| D'Marcus Hayes | Offensive Line |
True Freshmen who played
| Player | Position |
| --- | --- |
| *Tyson Campbell | Cornerback |
| Brenton Cox | Outside Linebacker |
| Justin Fields | Quarterback |
| Quay Walker | Outside Linebacker |
| Tommy Bush | Wide Receiver |
| Otis Reese | Safety |
| Christopher Smith | Safety |
| Channing Tindall | Inside Linebacker |
| Adam Anderson | Outside Linebacker |
| Luke Ford | Tight end |
| John Fitzpatrick | Tight End |
| Jamaree Salyer | Offensive Line |
| Trey Hill | Offensive Line |
| Jake Camarda | Punter |
| Jordan Davis | Defensive Line |
| Cade Mays | Offensive Line |
| James Cook | Running back |