The horns of a dilemma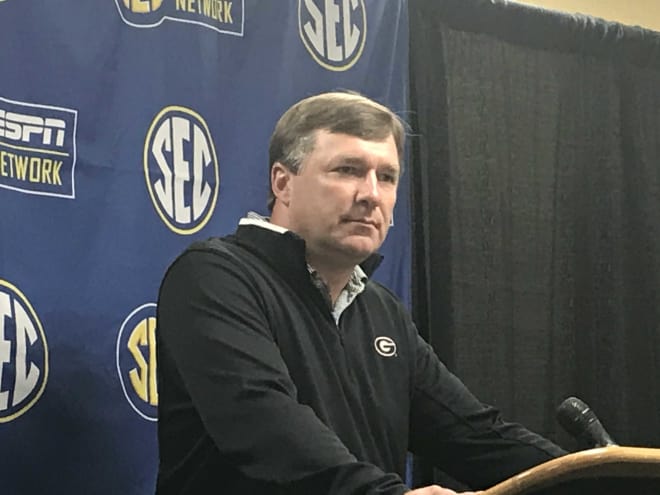 DESTIN, Fla. – It's a trend head coach Kirby Smart is becoming all too familiar with—keeping enough quality quarterbacks on your roster isn't as easy as it used to be.
First, it was Jacob Eason, who left for Washington shortly after the arrival of freshman Justin Fields.
Last week, it was preferred walk-on Stetson Bennett, who announced his transfer from the program, leaving a giant question mark as to who will be Georgia's third-team quarterback behind Jake Fromm and Fields.
"Obviously, I think you can see what we're going through and a lot of teams are going through. It's the same thing, because these young high school quarterbacks are doing the same thing in high school, they're positioning from eighth grade—where can I be the quarterback in the ninth grade at this program?" said Smart, speaking Tuesday at the SanDestin Hilton, site of this week's annual SEC Spring Meetings.
"When they go shopping, they find a place they can go and they start for three and four years where it didn't used to be that way," he continued. "Now, it's kind of trickling up to us where a kid says, 'I'm going to go there.' You don't see the guy—I use Hutson Mason as an example—a guy who kept getting better, grew as a quarterback. There's just not a lot of that."
With Bennett gone and word that senior Sam Vaughn won't be back with the team, that currently leaves the Bulldogs with freshman Christian Kerut and sophomore John Seter behind Fromm and Fields. Two other walk-ons, including Alpharetta's Matt Downing, will join the group when freshmen report this week.
Smart also indicated other position players currently on the team with past quarterback experience could also receive a look.
"It's hard to say I feel good about the (walk-on) quarterbacks. We have two talented young men coming in, but they have not been with us. They'll be with us one day this week when they report. We're excited to see what they can do from a meeting standpoint and a conditioning standpoint," Smart said. "We'll be able to work with them. We won't really be able to evaluate them with a ball in their hands until the fall. I think that's why you're always looking and searching. And no, it's not beyond belief that we would not move somebody else or have somebody else ready to play, very similar to the packages we had last year."
Smart was asked if there were any graduate transfers who could be an option.
"You know any? You're always looking to make your roster as good as you can and as best as you can. This has been an ongoing thing for us. You have to be able to forecast these things, to see it coming from a long, long way away," Smart said. "We were recruiting multiple quarterbacks last year with the idea we might even sign two. It never came into fruition, but we thought we had a really good one in the situation we had with Stetson. But we're always open to that. Is there somebody I'm looking at specifically? No."
Georgia isn't the only program feeling the pinch.
Alabama head coach Nick Saban lamented the fact his Crimson Tide only has three scholarship quarterbacks and will be leaning on walk-ons as well to fill out their roster.
As Bennett's decision proves, it's not just five-star quarterbacks making decisions to leave programs.
"I think that's true for any quarterback. You know what we're going through; we wanted to keep Stetson here with us. You can't say when he was coming out of high school he was that. He's looking for an opportunity," Smart said. "You do the math: 130 (FBS schools). There are way more quarterbacks than that. Everybody would like to have a three-deep. So how many is that, 390? That's crazy to me. You're not going to have that. It's a me-now society. They want the self-gratification. They want to know they're going to be able to play. It's different than any other position on the team. Every other position on the team, other than maybe kicker, they know they can have another role."
Smart said there's a point he makes to parents of quarterbacks when thoughts turn to transferring to another school.
"I'd argue if you were the parent of a quarterback that you would say, you know what, where is my son going to get the best development? Where is he going to get the best reps, where is he going to learn to play the quarterback position like it is in the NFL, not necessarily play first. Where is he going to learn to play the position, sit in the meeting room where they teach you protections and the things they are going to learn at the next level," Smart said. "They don't draft you at the next level just based on your play performance, they want to see what system you played in, where you played, and did you grow as a quarterback. They want to know have you learned? But it's tough keeping them around. They want to go where they can play right away."
The selling doesn't stop there.
"You've got to sell it to them that it's about the team. It can't be just about you, even though there is a me generation, a me society," Smart said. "I think sometimes when you explain it to them, this is what's best for you, then you can help them understand what you're doing what you're doing."