Richt offers rising star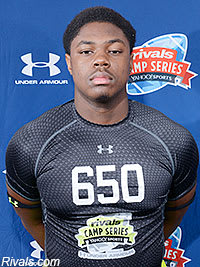 Powder Springs (Ga.) McEachern offensive tackle
the nation's No. 46 overall player, had already received offers from
Georgia a while ago. On Tuesday, it was Anchrum's turn to get the good news.
"I was having a conversation with Coach [Mark] Richt and he pulled me into his
office to talk to him," Anchrum told UGASports. "We were talking about our
personal lives and things like that and then he said, "We want to offer you a
scholarship'. He said Coach [Rob] Sale is fired up about me and they want me to
get comfortable up there."
offensive line coach operates in practice.
"I like Coach Sale, I really do," Anchrum said. "I like the way he runs the
offensive line. It's more like a business. It's more like they do it in the NFL.
He's going to play the best five."
the right guy to lead Georgia's offense.
"I think that he's not going to change what Georgia has been doing," Anchrum
said. "I just think he's going to simply improve it. With his background and his
accolades, I think he's going to take them to another level. He's a little more
chill than Coach Sale. He's more of a teacher of football."
Anchrum has been watching Georgia over the years and likes what he's seen out of Richt's program.
"I really like Georgia football," Anchrum said. "They are consistently a top 25
team. I feel like they have had shots where they could have been in the top
five, but just need that little edge. I like Mark Richt. He's a real
family-oriented guy, but he's hard on you too."
He also likes what he's seen on his multiple trips to Athens.
"It's beautiful up there," Anchrum said. "I like the city. I like the people up
there. I like the campus. Everything is where you need it to be and not too far
away from the dorms.
Anchrum's recruitment is beginning to heat up, especially after an impressive
performance at the Rivals Camp in Atlanta. So does any school have an inside
track for the 6-foot-4, 255-pound junior
"It's hard to say right now," Anchrum said. "I don't have a set favorite. I'm
still doing my homework on these schools."
He does, however, hope to have his decision out of the way before the upcoming
football season starts.
"I want to commit somewhere towards the end of the summer or beginning of the
season," Anchrum said. "I'd like to do it before the season so I don't have to
worry about it anymore."
Rochester recently raved about his teammate during an interview with UGASports.
"Tremayne Anchrum, to me, has to be the best left tackle in the state as far as footwork," Rochester. "He is not the biggest guy in the world, but you can't beat him around the corner, and you can't beat him inside. He is really going to turn it out in these camps because he has been putting in so much work. I work out with him ten days a week, if you could say there are 10 days a week. That's how much we work out together. He is just the hardest and dependent. He just works his ass off. It's fun because, I mean, I am bigger than him, so I've usually got to use my strength. I can't beat him around the edge, so it gets kind of fun. He gets mad when I out-strength him. I get mad when he just sets me and doesn't let me off the edge, so it's just really fun, and we go at it all the time. It makes both of us better. He is blocking bigger dudes now, and I am getting faster off the edge against little dudes now, so it's really helping us out."
Anchrum says he hopes to be back in Athens again
next week for practice and will likely attend G-Day as well.