Newcomers set to make their mark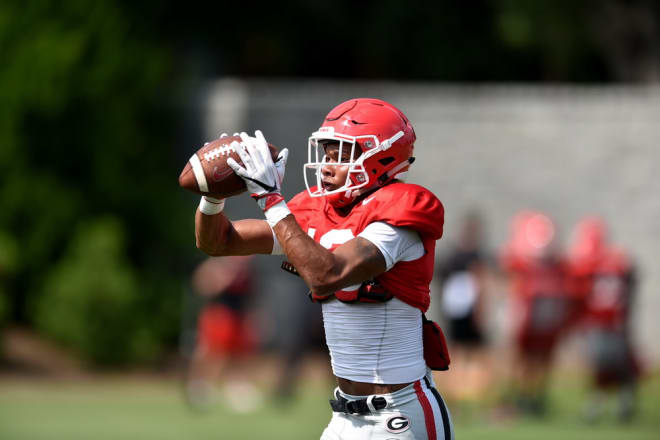 First games are always exciting.
Not only is it the kickoff to the beginning of a new year, but's it also an opportunity for fans to see the new players and hopefully get an idea who will contribute to the team's cause this fall.
That's certainly true for the third-ranked Georgia Bulldogs.
Last year's recruiting class was pegged No. 1 in the nation by Rivals.com. Many of its names are expected to debut in Saturday's game against Austin Peay (3:30, ESPN).
"I'm excited for all of them," senior center Lamont Gaillard said. "I'm excited to see what they've all got and what they can bring to the team and make us better. I'll be excited with whomever is out there making plays."
There's no shortage of players expected to do just that.
Quarterback Justin Fields has obviously received a lot of attention. But offensively, there are other freshmen—namely running back James Cook, who has been a popular subject of conversation after receiving significant praise from teammates so far.
Cal transfer Demetris Robertson is another.
"They're fun, they're exciting," quarterback Jake Fromm said of Cook and Robertson. "They're explosive football players, guys who, when they get the rock in their hands, can make it six points really quick. James and D-Rob will make a great contribution to the team. I saw a lot of highlights, the plays he's been making and his high school highlights as well. The guy can definitely make a lot of plays, and he'll make a lot this fall, too."
Head coach Kirby Smart gave Notre Dame defensive line graduate transfer Jay Hayes a plug.
Hayes, who started all 13 games last year for the Fighting Irish, is not expected to start for the Bulldogs, but Smart assured the media Monday he's going to receive significant playing time.
"Jay has provided us much-needed depth. I think Jay gives us a lot of quickness on the front. He's a guy who does movements well, plays good at the point of attack," Smart said. "He's been an asset from an energy and effort standpoint. I compare him to (Jonathan) Ledbetter, where he chases the ball, he runs after the ball. He plays really hard. He's adjusted to our system very easily. I think having been an older player, he just learns easier. He's going to provide us a lot of depth. He's going to be able to play a lot of snaps."
Other freshmen to watch include outside linebacker Brenton Cox, middle linebackers Quay Walker and Channing Tindall, and cornerback Tyson Campbell, who continues to compete for the starting job at right cornerback opposite Deandre Baker.
"Tyson has come in and picked things up probably more naturally for a defensive back than what I've been used to," Smart said. "The corner position is probably the easiest to play when you look at our defense. A lot of times they're man-to-man outside, but there are some checks involved, and he's handled that well. He's a very mature kid. He's practiced hard. If he can stay away from the injury bug, he's certainly going to play a lot for us."