Monday Notebook: Smart on matchup, Venue, and Carla Williams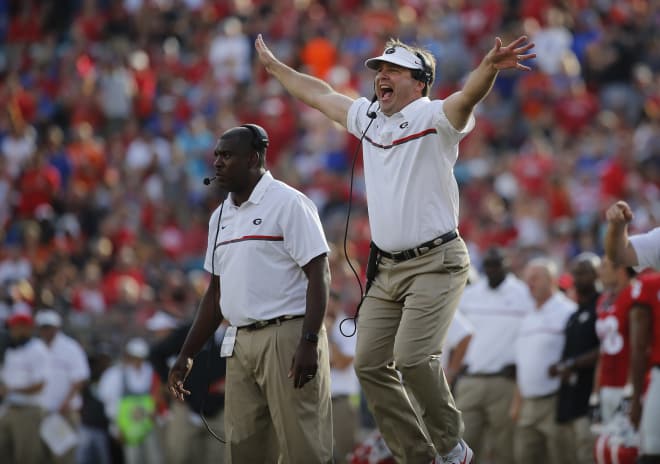 During their weekly team meeting Sunday afternoon, Kirby Smart asked players on his team to stand if they'd ever beaten Florida.
Not a soul got out of their chair.
Georgia hasn't beaten the Gators since 2013, and none of the current Bulldogs appeared in the game.
"It was sobering. I think with so much praise going on, on the outside, it was like, 'Guys this is where we're at. We haven't beaten these guys,' " he said. "It was a call to action to get back to work, coming off the bye week. Sometimes you need to get cranked up but we already did that."
Nose guard John Atkins agreed.
"I haven't really thought about it until last night when coach told us to stand up if you have beaten Florida and no one stood up," Atkins said. "The road to win the East goes through Florida so you have to be able to beat them. It's a big rivalry. You don't want to lose to a big rival."
Statistically, Georgia would seem to have an edge.
The Bulldogs rank second in the SEC in both scoring offense (37.6 points) and scoring defense (12.6 points per game), while the Gators are 12th (23.7) and 7th (23.3), respectively. In addition, Florida features a quarterback in Felipe Franks who doesn't even register among the top 10 in the SEC in passing efficiency (134.34) and only has four touchdown passes in 106 attempts.
However, Smart has always been quick to discount numbers and the trends this year's stats appear to represent.
"I think trends are pretty commonplace. It has a lot to do with who the quarterback is, who the defense is, who the players are. At the end of the day, it boils down to players, guys making plays, not turning the ball over, how you respond to a little adversity," Smart said. "In this game, it's traditionally been a seesaw type game. I mean, I don't get too much into who won last year, who won the year before that. It's a whole lot more about what we're going to do this year, because that's really all we can control. We can control how we play this year, worry about the things that matter. I don't think any of that matters."
Count Davis as someone who would like a venue change
Saturday's game will mark the 86th time that the Bulldogs and Gators have played in Jacksonville, and will continue to do so for the foreseeable future.
That doesn't mean everyone has to like it.
Just ask Bulldog defensive back Aaron Davis.
I feel like the venue doesn't really matter, but to me personally, I've been to Jacksonville quite a few times," Davis said. "I've been there for Florida and twice for the TaxSlayer Bowl, so I'm pretty familiar with Jacksonville. I'm kind of tired of going there. It's fun when we go there to play Florida, though. We'll enjoy it a lot better if we win."
Smart was asked to give his opinion as well.
Although Georgia's coach doesn't have an issue with the venue itself, the fact the neutral site does effect recruiting is a negative worth noting.
"I think it is what it is. The biggest disadvantage to me is the recruiting aspect. I've always said you lose a great opportunity once every other year, and you figure in your state you're going to have a hundred top players," Smart said. "Every four years they're in high school, there's two opportunities to bring them to a big game, to an environment that would be second to none. You lose that opportunity. You don't get that opportunity. They also lose that opportunity. So, the both of us, if anything, that's the impact. I don't think it's an impact on the outcome of the game. I don't think it's an impact on anything other than the fact you lose an opportunity, a good chance to recruit prospects and have them on your campus."
Smart not jumping into playoff fray discussion
When it comes to whether the SEC should be allowed to qualify two teams for the four-team playoffs at the end of the year, that's a subject Smart is not willing to touch.
Certainly, not yet.
While some have speculated that could happen if both Georgia and Alabama make it to the SEC title game undefeated, Smart said that's a subject he hasn't even considered.
"Yeah, I have no idea. I'll be honest with you. I don't get to watch enough games. I'm not a good judge of how talented the SEC is," Smart said. "I've spent the last seven days watching Florida, getting ready for future opponents in the SEC. I'm going to leave that to you guys. I'm focused on getting ready for Florida."
Offensive line continues to draw praise
Count Gator coach Jim McElwain as someone who's impressed with Georgia's offensive line.
"Boy, they've done a really good job," McElwain said during Florida's press conference on Monday. "Sam (Pittman) has done an unbelievable job with those guys. They do a really good job as offensively as far as teaching. They give those guys, those backs, those two-way go's. If your backers fill wrong, they make it happen. They've done an unbelievable job up front."
Smart said the line's improvement is due to a number of different factors.
"I don't know if I could pinpoint one moment there was a total buy-in. I think the group as a whole, it's a little different group. I mean, we've got guys that have done it by committee for the most part. We've rolled some guys in there. We've got good backs. We had good backs last year," he said. "I think the fact that we've been a little more open in our personnel groupings has helped. I don't know one thing, one overriding factor. I think the receivers have played better and blocked better. That's allowed us to spring some more runs, do some more things. A few more RPO's mixed in there have helped. There's a lot of things that are cumulative.
"Second year in the same offense helps. A lot of things affect that. I don't think it's one thing that we can pinpoint. But I do think the offensive line has matured and is playing a little better."
Smart praises Williams
Smart had nothing but good words to say about former assistant athletic director Carla Williams, who was named the new AD at Virginia on Sunday.
Internet rumors over the past year have suggested that there was some sort of friction between the two, but that certainly didn't sound like the case when Smart was asked about Williams on Monday.
"What a great opportunity she's been presented with. A tremendous job she's done for Georgia athletics," Smart said. "I've known Carla for a long time – I'm happy for her and her family, for the opportunity they are getting."
When asked about his working relationship with Williams, Smart had this to say.
"It's great. I think Carla has a great relationship with the student-athletes. She cares. They know she cares about them personally. She's done a tremendous job for the University of Georgia in the way that she represents Georgia and the way she represents student-athletes," Smart said. "She did a tremendous job with the academic side of things. She was a great asset for me, especially when I first got here from bouncing ideas off of; finding out how things worked. She did a tremendous job."