In Short: McElwain & Gator Players Discuss Dogs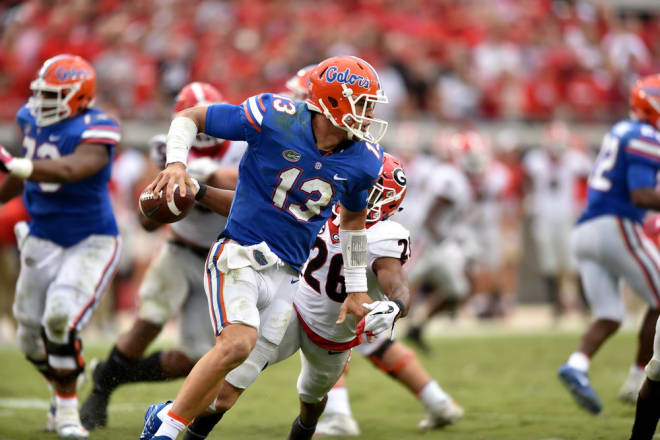 JACKSONVILLE, Fla. - Following Georgia's 42-7 thrashing of Florida, Jim McElwain and some of his players were made available to discuss the game; however, the Gators mostly fielded questions regarding the head coach's job security.
This morning, it was tweeted by prominent sports attorney and Florida graduate, Darren Heitner, that McElwain could be let go by the Gators in the near future. Soon thereafter, Florida's athletic director, Scott Stricklin, stated no one in the athletic department had discussed a buyout of McElwain's contract. Still, not aware of the whispers regarding his job security until today's pre-game meal, McElwain stated that because of the rumors, "Those eggs didn't taste so good."
In regards to defending Georgia's ground game, some Florida players had initially been confident that they could be successful, yet the Bulldogs' 292 rushing yards were the most gained against a McElwain-coached team.
"They hit a little slice iso (isolation play) on us and we didn't fit it right twice. That's a good thing about Jim [Chaney]." McElwain added that his defense's No. 1 challenge was to make Georgia one-dimensional (throw the ball), but because of the Bulldogs' "really good backs," the Gators had no answer.
Concerning Florida's 14 penalties, including four procedure penalties, McElwain said they were caused by Georgia "stemming up front," which is something the Gators work on and discuss defending, however, "they got us," according to the head coach.
Concerning Florida's defensive performance, safety Chauncey Gardner said Georgia "just executed." In addition, it was a "total shocker" to him that the Bulldogs jumped on the Gators so quickly with 21 points by the midpoint of the first quarter. "We knew they (Georgia) could put up points, but not that many so quick," Gardner said.
When asked about the two fourth-down plays he failed to convert resulting in incomplete passes, Florida quarterback Feleipe Franks said it was the Bulldogs' coverage which prevented the Gators from picking up the first downs. As far as Florida appearing to be somewhat unprepared, Franks said the bye week nor the "noise" regarding McElwain affected the Gators' play, rather "Georgia came out and played today. They did a really good job."