Identifying playmakers, and getting them the ball key object for spring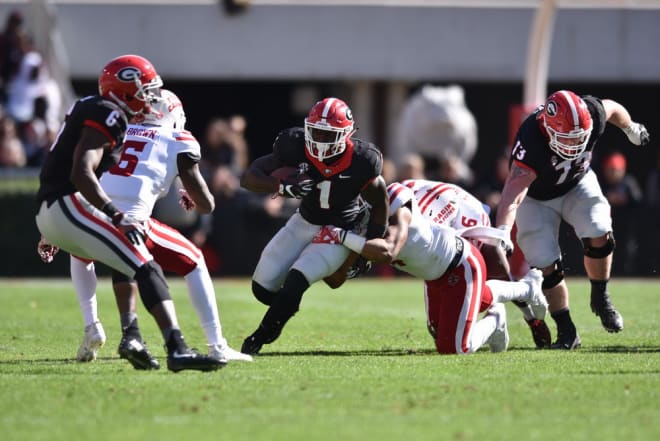 Although Kirby Smart didn't come right out and say it, it appears offensive coordinator Jim Chaney has a simple mission once spring practice begins on Tuesday: Identify Georgia's playmakers and find ways to get them the ball.
Actually, part of that equation should not be very hard to figure out.
Running backs Nick Chubb, Sony Michel and Brian Herrien will once again play integral roles for the Georgia offense. But taking better advantage of the talent at tight end, along with finding someone on the perimeter to replace the explosiveness of Isaiah McKenzie will no doubt be tops on Chaney's to-do list.
"With Isaiah being gone, he was an electric player on offense and you could probably say he as our most explosive player on offense," Smart said. "With him gone, okay, where are you going to get those explosive plays from?"
Good question.
At tight end, Isaac Nauta had a great freshman year with 29 catches for 361 yards and three touchdowns, so the potential is obviously there for more. But getting fellow sophomore Charlie Woerner and senior Jeb Blazevich better integrated into the offensive flow, also figures to be something Chaney attempts to do.
Finding someone to step up at wideout is also a chief concern.
Coaches are hoping that junior Terry Godwin (38 catches for 397 yards) can fill part of that void, along with Riley Ridley and Javon Wims, two returning players who immediately jump to mind.
Ridley, of course, is still dealing with the marijuana charge following his arrest last week and his future as far as the opener against Appalachian State is still in question. However, that won't keep him from taking part in spring practice and there's no doubt that Smart will be watching closely.
Smart is also hoping to see more from returnees Michael Chigbu, Tyler Simmons, Jayson Stanley, while early enrollee Jeremiah Holloman will get plenty of opportunity to show what he can do.
"We've got to get to play a little more physical and better," Smart said. "It's really a complete package but, if you're going to pick out one thing we've got to do better, we've got to find ways to get guys who can make plays with the ball."
Much more is expected of quarterback Jacob Eason as well.
Eason experienced his ups and downs as a true freshman, and while he certainly showed signs that he can become an excellent quarterback in the SEC, Smart points to his consistency as an area that still needs some work. It's hoped that the arrival of early enrollee Jake Fromm will push Eason to do just that.
"Jacob's got to be able to throw, and throw the ball better, and we've got to be able to throw and catch it better so we can open things up better for our run game," Smart said. "When you look at Sony, Nick and Brian Herrien, when you rate your four or five top offensive guys, three of them may be coming from the backfield. We've got to find ways to get those guys the ball."
Smart believes the potential is there.
"Look at the TCU game. For as much as we were struggling, when we got the ball to Sony, some good things happened and that's what we've got to do," Smart said. "We've got to find ways to get Sony, Nick, Brian Herrien, Terry Godwin, Javon Wims, a lot of these guys, the ball in space to make some plays and we've got to have some help in some areas from other players (freshmen) coming in at in June."