Georgia forming a strong early bond with star quarterback MJ Morris
The trajectory for 2022 quarterback MJ Morris continues to climb, and the Peach State rising junior is on an early pace to be one of the nation's best in his class.
Georgia, one of the schools that offered Morris early, continued to increase its pursuit of him over the course of the nationwide Covid shutdown.
That's especially true of new offensive coordinator Todd Monken.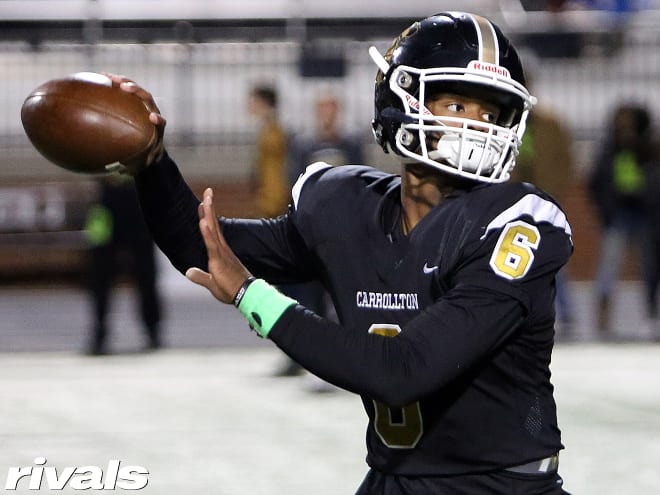 "I've really gotten to know Todd Monken well, and I really like him. He and I have a weekly call which lasts about an hour. In this call, he's teaching me NFL and college defenses. I've learned a lot from him in such a short time," Morris said. "He's going to be great at UGA. He is really cool and laid back, but when we're talking football, he's mostly straightforward and serious. You can tell he's a perfectionist and has an eye for detail."
While you might expect the calls to be centered around throwing receivers open and quarterback drills, Morris said the two are going much deeper.
"I believe by Coach being at the highest level, he knows what it takes to play at the next level. He can help me grow by expanding my knowledge of the game. Playing quarterback is mostly cerebral, and he's getting me prepared by teaching me defenses," Morris said. "He said we'd talk about offense later on, but first I needed to know how to read a defense. I agree with him. If you know the defense, then a QB knows where to go with the ball."
For Morris, that relationship has helped set the Bulldogs apart.
"Georgia is different, because it's the home school. But other than that, most schools all have good facilities. What separates schools from each other is the genuineness of the staff. Trust me, I know when I'm getting recruit talk," he said. "UGA has always been honest and straightforward with me. On my last visit, Coach [Kirby] Smart gave me some great insight and said the leadership at UGA was stable and could be trusted."
Connecting with Morris's family has also been a major key early on for the Georgia staff.
"UGA is special, because I grew up watching them, and I've seen people that I grew up with have success there. UGA is also high on my list, because they're genuine. Coach Smart and his staff treated my mother really well, and that's important to me. They also spend a lot of time with me. It's a blessing to spend time and learn from Coach Monken. He doesn't have to do that, and I feel blessed."
Those ties to former and current players have also stoked interest.
"I was happy to receive a UGA offer, because I grew up admiring the program and I was the ball boy at Pace Academy when Trey Blount, Andrew Thomas, and Jamaree Salyer played there. Them being there made it really special, because I grew up looking up to them. I was just with them two weeks ago. I was invited to Dash Performance to see them work out. Drew and Salyer asked me, have I been in contact with UGA. I don't really talk about their experience, because they've expressed their love for UGA. UGA has been good to them. Drew went fourth in the draft, and I'm certain Salyer is next up."
Of course, a long history with the program doesn't hurt either, aside from the fandom.
"I received my UGA offer in the summer after my freshman year. I went to camp, and I believe I performed quite well," Morris said. "During the camp, they started following me with cameras, and Coach [James] Coley, the offensive coordinator at the time, started paying me a lot of attention. He eventually asked me to stay and throw after the camp. During the second session, Coach Kirby and other coaches watched. After the camp, Coach Coley and Coach [Dell] McGee told my dad that I did well to be so young, and they would evaluate my camp film and be in contact. They called him the next day and offered."
Despite all the early factors in Georgia's favor, this will be a battle, as teams are already pouring in heavily.

"Auburn, Florida State, Missouri, Penn State, Oregon and Georgia, Stanford and Georgia Tech have all been in regular contact with me. I'm on the phone with Coach [Gus] Malzahn, Coach [Eli] Drinkwitz, Coach [Mike] Norvell, and Coach [Geoff] Collins on a regular basis. It's always special to have regular communication with the head coach."
Once things open back up, expect Morris to hit the recruiting trail heavily and put in some face time with those competitors.
"I really want to see some schools I haven't been to, such as Florida State, Michigan, Oregon, Stanford, Penn State, and Michigan," he said. "They have made me feel like I'm a priority."