Dawgs in the NFL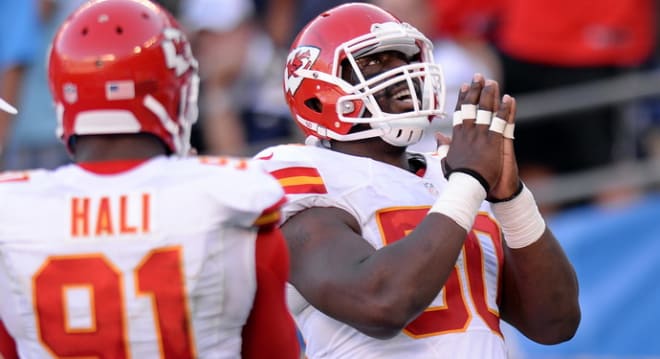 A few former Bulldogs scored touchdowns this week in the NFL. Some did it the conventional way,
while others were not-so-conventional.

[rl]
against the Ravens, but he did have another touchdown run. The rookie only had
66 yards on 25 rush attempts, but his touchdown was his fifth straight game with
a score. While he scored just one touchdown on the ground last week, it made me
wonder which former Bulldog had scored the most rushing touchdowns in a single
NFL game. Here is what I found.
That was during Super Bowl XXXII and it is the record for most rushing

last week. Stafford scored from five yards out early in the fourth quarter to
put Detroit up for good in the win over the Oakland Raiders. That was his first
rushing touchdown of the season and his 12th of his career. That 12 is second
highest total by a Georgia Bulldog playing strictly quarterback in NFL games.
Number one on this list may not surprise you, but here is the top seven.
Stafford did not have a touchdown pass nor an interception in the game. He went

master intercepted Philip Rivers late in the third quarter and scored from 17
yards out in the Chiefs blowout of the Chargers. It was his third career
interception (second this season) but his first pick six. Here are the top five
former Bulldogs in terms of pick sixes in the NFL since 1990.
Mo Lewis: 4
Houston only had one interception in his time with Georgia. That was in 2010
against Georgia Tech.

Demarcus Dobbs (Seahawks) 4 tackles
yards
David Andrews (Patriots), Clint Boling (Bengals), Cordy Glenn (Bills) and Ben
Jones (Texans) all started on the offensive line this past week.
Marlon Brown (Ravens), Chris Clemons (Jaguars), Kedric Golston (Redskins) and
Fernando Velasco (Panthers) saw action as well.