Would Richt over-sign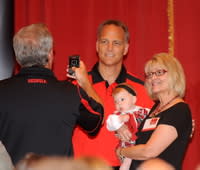 GREENVILLE, S.C. - Of all the topics currently facing college football coaches in the SEC, the subject of over-signing and "gray shirting" continues to garner its share of attention.
Wednesday night at a Bulldog alumni meeting in Greenville, Georgia head coach
Mark Richt
addressed that question head on during a question and answer session with fans.
"If you sign a class, you can only bring in as many as you have room for, so let's say you have 85 on scholarship and let's say you have 15 seniors graduating. Well, there's only 15 more spots for 85, you can sign 25 guys, by rule, and in February you can sign those 25 guys," Richt said. "Now, by the time that season starts, you may have more attrition, five more guys may leave for whatever reason, may go pro, transfer, so let's say you're down to 20.
"You've got 20 spaces but you've still signed 25. Well, you can bring them in during the summer, work them and let your strength staff work with them, and decide which ones you like the best. The other five, you can tell them, 'Hey, we know we signed you, we expect you to come in, but we don't have space for you, we're sorry, but you have to leave and come back in January.'"
After a brief pause, Richt gave his feelings on that particular tactic.
"I think that's an awful thing to do," Richt said. "It's nothing that we have ever done since we've been at Georgia."
Richt conceded that's not the case with gray shirts, something he admitted Georgia has talked to recruits about doing in the past.
"Not to say we haven't gray shirted, or talked to a kid about gray shirting, but if you tell five of those guys, hey, we've got 20 spaces, I can sign 25 and there's a good chance by the time school starts there will be room for you because of the attrition which seems to happen every year," Richt said. "We tell them if there's space for you, you come in with your class, if there's not, we ask, are you willing to come next January? They'll then say 'Coach, I understand it' and they are willing to do that. If you tell them on the front end, they understand that. That's how we go about it if we talk to a kid about gray shirting."
Richt said it happens more than some might think.
It's just in most instances it's something that's rarely found out.
"Almost every year there have been guys in our class in that gray shirt situation. Normally, we say you don't have to tell anybody, just sign on Signing Day and the chances of you coming in with your class, no one's going to know the difference, which I don't think is dishonest with the way things are," Richt said. "So we've signed guys knowing that the class is full and asked if they could come in January, but every time we've done that, there's been a space and they came in with their class."
But those rules might be about to change.
According to Richt, the SEC and the NCAA is changing the rules "just as rapidly as they can to keep it from happening in the future."
• Earlier, Richt was asked about running back Caleb King's academic standing but did not indicate if he was currently eligible or ineligible.
After his question and answer session, Richt was approached by UGASports but the Bulldog coach would not comment.
Richt then asked for sources regarding the report about King. UGASports refused to divulge its sources. "Then I'll have nothing to say," said Richt, as he walked away.
• Richt said that offensive tackle Trinton Sturdivant, who tore his ACL for the third time, has not ruled out playing again. In case football does not work out, Richt said that Sturdivant has aspirations of being a college athletic director.
• Richt said
Sanders Commings
is still listed as a cornerback but will get a look a safety.
• Richt repeated an earlier statement to the media, saying that tight end
Orson Charles
is "his best receiver".