UGASports Staff Media Pick Em
The site staff at UGASports has gotten together with others from the Rivals.com network and members of the Athens area media for our own weekly pick 'em. Each week, we will select 10 college football games, one of which will be the Georgia game, and select who we thing will win the contest. Here are our week
two picks.
A few notes on the games....
All Aboard - All agreed on the following winners: Georgia, Kentucky,
LSU, and Oregon.
On an Island - Voters who were the only one to go against the grain this
week are: Patterson with Penn State, Schlabach with Boston College, and
Sugrue with Minnesota. Only Gall and Patterson are picking Penn State to
upset Notre Dame.
Can't make up our minds - The most split games were Ohio State (7) at
Texas (5)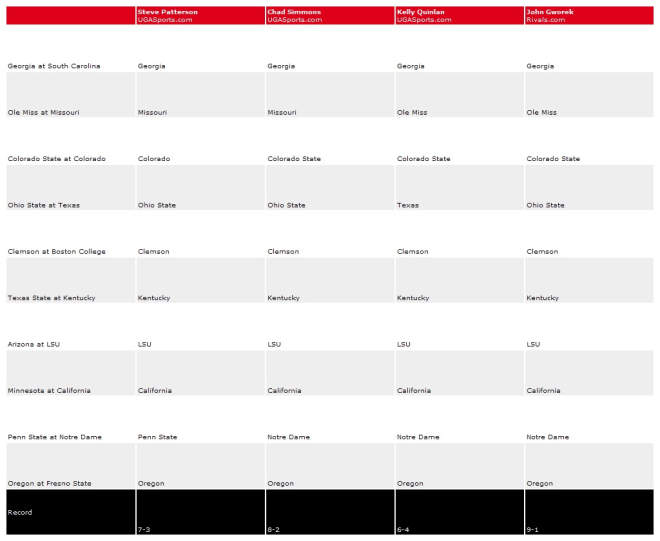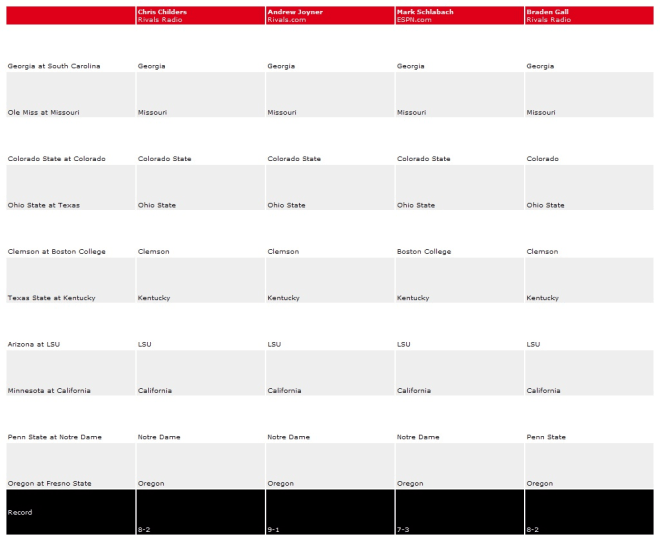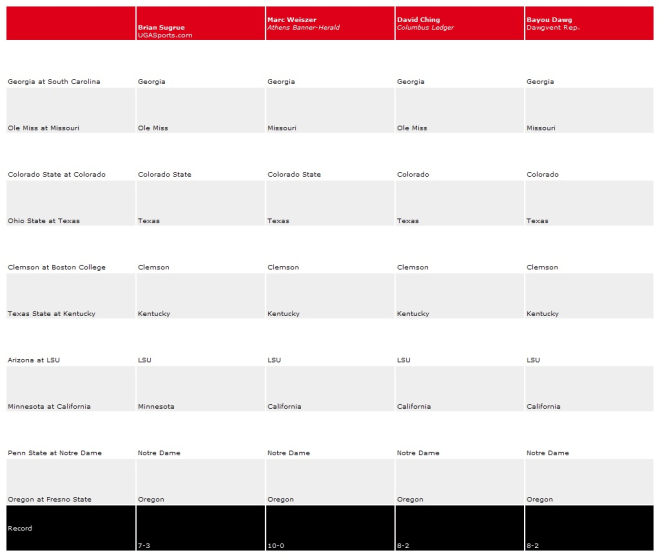 Other members of the media were invited to strut their stuff, but they declined the invitation

Week One Results
The results are in, and Marc Weiszer of the Athens Banner-Herald has
bragging rights for the first week of the UGASports.com Staff & Media Pick 'Em
with a perfect record of 10-0.
Following close behind is Rivals.com Front Page Editor John Gworek and SEC
Editor Andrew Joyner with one loss, and then Chad Simmons of UGASports.com Chris
Childers and Braden Gall of Rivals Radio, David Ching of the Columbus Ledger,
and Dawgvent Representative Bayou Dawg with two losses.
Steve Patterson, Mark Schlabach, and Brian Sugrue, all of UGASports.com
suffered three setbacks, while Kelly Quinlan, also of UGASports.com, trails all
at 6-4.
Choosing this weeks games was a bit tougher than Week One. Selection criteria
are the following: the UGA game, big SEC games, followed by big national games.
It was tough to come up with ten games that figured to be close, but here
goes: Ole Miss at Missouri, Georgia at South Carolina, Colorado State at
Colorado, Ohio State at Texas, Clemson at Boston College, Texas State at
Kentucky, Arizona at LSU, Minnesota at California, Penn State at Notre Dame, and
Oregon at Fresno State.
The panel's selections will be posted on UGASports.com Thursday morning.