UGA hands Spurrier his first shutout since 1987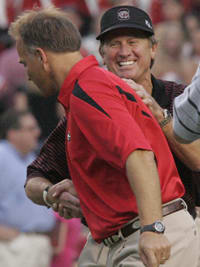 COLUMBIA, S.C. -The "Junkyard Dawgs" struck again Saturday night.
Russell led the defense for Georgia coach Vince Dooley from 1964-80 before leaving to restart football at Georgia Southern. Against the Gamecocks, the Bulldogs (2-0, 1-0 Southeastern Conference) played with the fire and fortitude that earned Russell's teams their famous nickname, along with four SEC titles.
Georgia's players wore a black ``ERK'' decal on their helmets, then bottled up the Gamecocks (1-1, 1-0) for most of the game.
The Gamecocks drove to Georgia's 2 midway through the fourth quarter. Again, Georgia held them without points.
This was Georgia's first shutout since a 30-0 win at Clemson to start the 2003 season. The only other time a Spurrier team was held without points came during his first year as a college coach in 1987, when Duke lost 7-0 to Rutgers - a span of 193 games.
Stafford showed his talent - he escaped a sure sack deep in own territory by rushing the width of the field then pushing forward for an 11-yard gain - and rawness with three interceptions. However, the way Georgia's defenders played, it didn't make much difference.
Ware did the rest, carrying four times for the final 38 yards, including a 9-yard TD run that put Georgia ahead 10-0.
Coutu connected from 46 yards as time ran out, sending Georgia to the locker room up 15-0.