Spring Focus: Dawgs looking for someone to take over at Star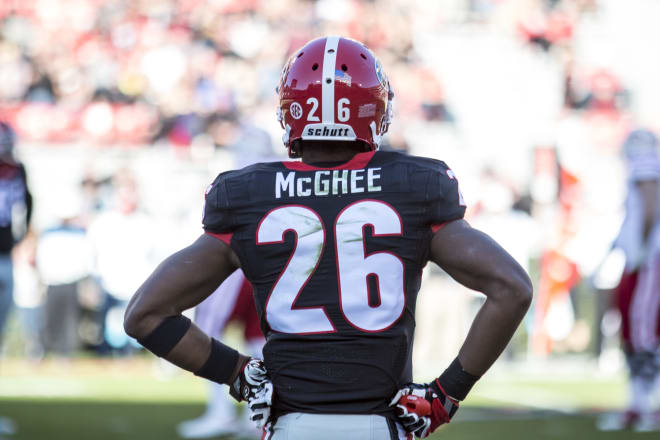 When Maurice Smith came to Georgia as a one-year graduate transfer last fall, who would have figured the former Alabama player would have made the contribution that he ultimately did?
Not only did Smith wind up starting all 13 games at Star for the Bulldogs but, by the time Georgia ended its season in the Liberty Bowl against TCU, the argument could have been made that he was the leader for the entire secondary, and one of the most respected members of the team.
But what now?
As Georgia gets ready to start spring camp, who replaces Smith at Star will be one of the interesting storylines to follow, especially since last year's top backup – Rico McGraw – is no longer part of the program.
So, who will it be?
Let's examine four names who could get a long look:
Senior Aaron Davis:
Davis started 11 of Georgia's 13 games last year, finishing fourth on the team in tackles with 54. But is he physical enough? Davis has played cornerback and safety over his career with the Bulldogs but, at 189 pounds, is six pounds lighter than the 195 Smith played at last fall. While Davis may not be the perfect fit, his knowledge of the system could figure into his favor.
Senior Reggie Wilkerson:
Wilkerson has been around the program for four-plus years now but has struggled to get on the field. An ACL injury several years ago is partly to blame, but the former standout from North Marion High School in Florida has been behind the proverbial eight-ball for one reason or another. It's unclear if Wilkerson will get a real opportunity now. Assuming he does, Star is a position where he could make a contribution.
Sophomore Tyrique McGhee:
McGhee is an interesting possibility. The former Peach County standout barely weighed 170 pounds when he first arrived on campus with the Bulldogs, but we're told he's now approaching 190, and has continued to make strides from last year. Kirby Smart has always spoken highly of McGhee for his work ethic and desire, so don't be surprised if we find out the sophomore sticks his nose right in and perhaps challenges for the starting role.
Freshman Richard LeCounte:
LeCounte hinted on Twitter a while back that he'd get a look at Star, and come to think of it, that's probably the post he's suited best to play. Like McGhee, we're told that LeCounte has already added significant muscle and currently weighs at or around 190 pounds. We saw in high school that the former Liberty County standout is not afraid of contact and Star is certainly a position where he can put that aggressiveness to use.