Setting the Edge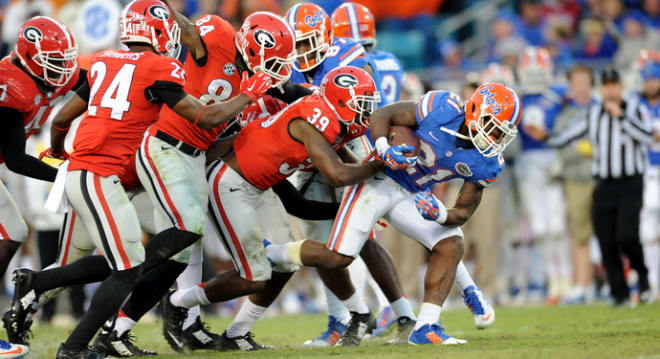 Georgia can't afford to give up 418 rushing yards to Florida twice in a row.
Last season, that led to a 38-20 beatdown in Jacksonville as the unranked Gators
ran through No. 11 Georgia's defense.
That loss can't be far from the Bulldogs' minds, although they don't like to
discuss it much. Understandable. In last year's win, two of Florida's tailbacks,
Kelvin Taylor and Matt Jones, broke free for runs over 40 yards long.
"We all know that you have to set the edge in the SEC, and setting the edge is a
never want the guy with the ball to keep running sideways like that, so we just
know for us to win games we have to set the edge."
It also might help that according to Bellamy, outside linebacker Jordan
Jenkins, known as a defensive leader, practiced today. Jenkins has been
battling a hip flexor injury.
[rl]
six times, completing just three passes. Because he didn't need to throw.
Georgia allowed 418 rushing yards and five rushing touchdowns. Since Florida's
performance-enhancing drugs, there's the opportunity for Harris to repeat his
prior performance.
This year, Florida's run game is less dominant, averaging 126.71 yards on the
ground. Georgia gives up, on average, 120.86 rushing yards per game. If those
numbers were guarantees, there'd be no hangups - but since season averages don't
been a focus this week.
"Stopping the run is definitely one of our biggest emphasis's of the week,"
Mauger said. "Just gotta stay locked in."
implications. Instead of deflating the team, Mauger said the two losses have
refocused it, in a way.
"I can't really say in a way that I'm not disrespecting last year," Mauger said.
"I can't really say that we weren't focused last year, I just feel like we're
all basically on the right track. We've got the right mindset right now and we
have a great opportunity right now to take advantage of coming into Saturday."