Richt getting an extension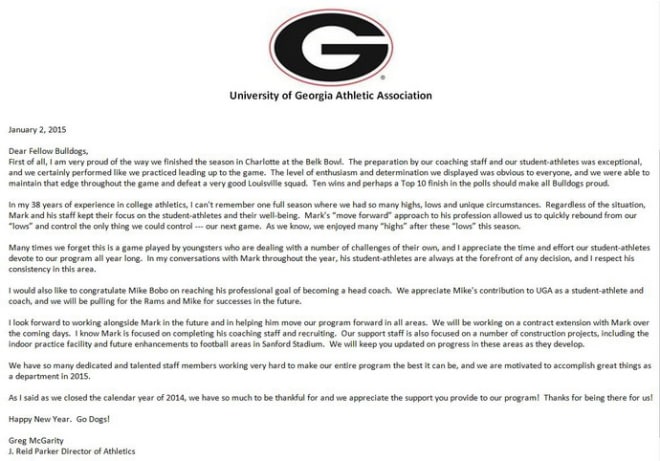 extension, Bulldog athletic director Greg McGarity confirmed in an email
sent out to top donors Friday morning.
The email, obtained by UGASports.com, thanked Richt for his continued service
and offered an update on other projects involving the football program, including
an indoor practice facility.
"I look forward to working alongside Mark in the future and in helping him move
our program forward in all areas.  We will be working on a contract extension
with Mark over the coming days.  I know Mark is focused on completing his
coaching staff and recruiting," McGarity said in the email. "Our support staff
is also focused on a number of construction projects, including the indoor
practice facility and future enhancements to football areas in Sanford Stadium.
 We will keep you updated on progress in these areas as they develop."
Richt's current contract, which calls for him to be paid $3.2 million annually,
was set to expire after the 2017 campaign.
The dean of SEC coaches - whose record stands at 136-48 - will now apparently be
in Athens well beyond that.
McGarity also lauded the entire Bulldog coaching staff for the work they did
leading up to the Belk Bowl, which Georgia won over Louisville Tuesday evening
an offer to be the head coach at Colorado State.
"The preparation by our coaching staff and our student-athletes was exceptional,
and we certainly performed like we practiced leading up to the game," McGarity
told boosters. "The level of enthusiasm and determination we displayed was
obvious to everyone, and we were able to maintain that edge throughout the game
finish in the polls should make all Bulldogs proud."
McGarity also praised Richt for getting the Bulldogs through what was obviously
a difficult year, one that included the four-game suspension of running back
Todd Gurley, before his season-ending ACL injury against Auburn.
In doing so the Bulldog AD also acknowledged other struggles the program faced
throughout the season and credited Richt for enabling the program to rebound as
well as it did.
"In my 38 years of experience in college athletics, I can't remember one full
season where we had so many highs, lows and unique circumstances," McGarity
wrote. "Regardless of the situation, Mark and his staff kept their focus on the
student-athletes and their well-being.  Mark's "move forward" approach to his
profession allowed us to quickly rebound from our "lows" and control the only
thing we could control --- our next game.  As we know, we enjoyed many "highs"
after these "lows" this season."
McGarity also thanked the Bulldog student athletes for their perseverance.
"Many times we forget this is a game played by youngsters who are dealing with a
number of challenges of their own, and I appreciate the time and effort our
student-athletes devote to our program all year long," he wrote "In my
conversations with Mark throughout the year, his student-athletes are always at
the forefront of any decision, and I respect his consistency in this area."
McGarity concluded his letter by thanking his staff, Bulldog supporters and Bobo
for his many years of contributions to the Georgia football program.
"We appreciate Mike's contribution to UGA as a student-athlete and coach," he
said. "We will be pulling for the Rams and Mike for successes in the future."