Red Beats Black 30-6

Rushing

Passing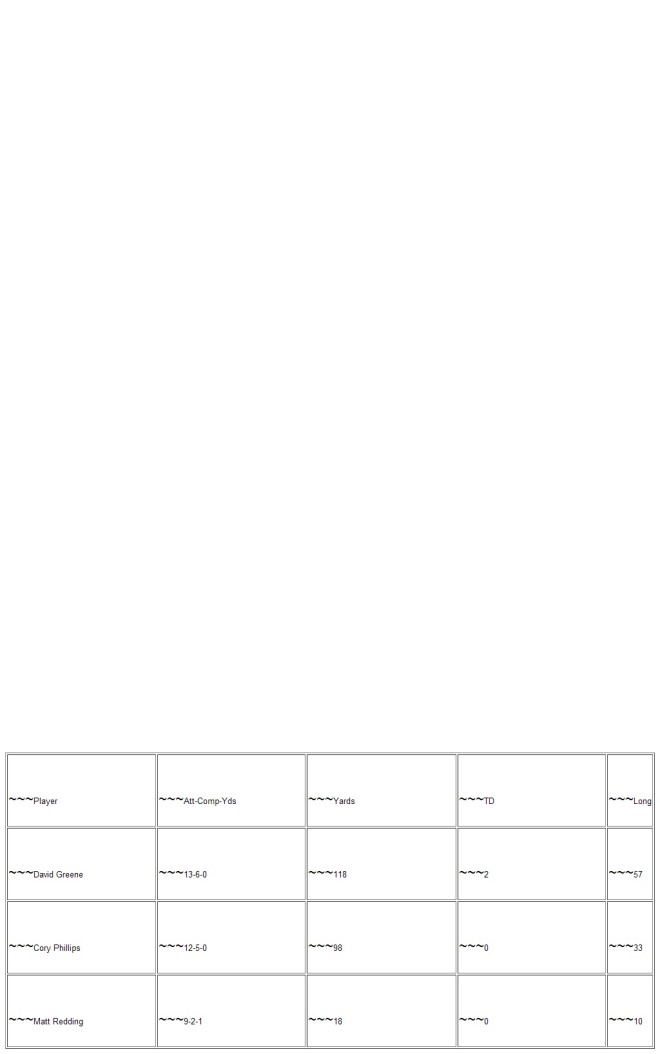 Receiving

Plus subscribers be sure to check out the RealAudio of head coach Mark Richt,
quarterbacks Cory Phillips and David Greene, as well as our 58 photos and video
clips that will be posted throughout the evening.
David Greene threw a pair of touchdown passes and Billy
Bennett kicked five field goals to highlight the Georgia football team's
G-Day Game on Saturday at Sanford Stadium.
With 20,445 fans looking on at Coach Mark Richt's first spring game
with the Bulldogs, the Red team officially defeated the Black team 30-6.
However, several Bulldogs played for both squads, including the
quarterbacks, running backs and kickers.
Greene, a redshirt freshman quarterback, threw touchdown passes on
back-to-back plays, hitting redshirt freshman split end Tavarus Morgan
on a 12-yarder and then connecting with junior flanker Durell Robinson
on a 57-yarder.
Bennett, a sophomore, connected on field goals from 38, 35, 26, 27 and
27 yards. He also kicked all three extra points in the contest.
Redshirt freshman Ronnie Powell had the game's only rushing touchdown
as he found the end zone from two yards out.
Greene completed 9-of-20 passes for 154 yards and the two touchdowns.
Junior Cory Phillips went 8-for-25 for 111 yards.
Sophomore running back Kenny Bailey paced the ground attack with 16
carries for 61 yards. Senior Verron Haynes added 43 yards on 12 carries,
while Powell picked up 41 yards on just four carries.
Redshirt freshman safety Burt Jones had a game-high nine tackles,
followed by senior linebacker Adrian Hollingshed and junior safety
Terreal Bierria with eight apiece. Hollingshed, Bierria, senior
cornerback Tim Wansley and junior cornerback Brandon Williams all had
interceptions.
The Bulldogs will conclude their spring drills next week.
"We'll focus on fundamentals and getting better," Richt said. "We'll
put them through one more scrimmage to see how they react. We want to
see who's progressed, who'll fight and who's giving 100 percent. We'll
do a lot of evaluating."