Not your typical spring break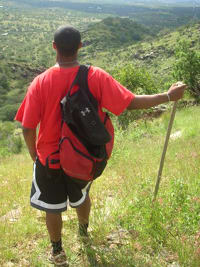 Georgia signee
Christian Robinson
does not take the typical trip when on spring break. The Greater Atlanta Christian Spartan left the country for the second year in a row and he is out helping others instead of relaxing on a beach somewhere.
UGASports
caught up with this future Bulldog to find out about his trip to Africa and what it meant to him.
Robinson took the time to answer these questions about his mission trip.
What part of Africa did you go to?
"We first took a 14 hour flight to South Africa and stayed there a night. Then the next day we flew up to Windhoek, Namibia and we were there for a week and a half."
Was this your first time there?
"This was my second time there. While I was in Namibia last year, I got my offer from Georgia, and I didn't find out about it until I got home a week later."
How hard was the labor you did daily?
"We worked really hard. We woke up, ate, worked out in the sun making bricks and cement. We used those to make a wall for kids to play games like wallball and racquet ball.
After that, we would drive into town and play with the children at Community Hope School and we played soccer with them. After that we'd come home to the base to eat and sleep up for the next day. We ended up having a crunch for time and two of the days we were there we had an eight hour work days out in the sun, so I got a tan, which was new for me."
Take us through your most memorable moment of the trip.
"The most memorable moment on the trip was when I walked back into Community Hope School for the first time again this year and all the kids came running up to me remembering my name. It let me know that I made a lasting memory from the year before and I was glad to be back there with them again."
How do the smiles you see on people's faces when you do the work you do over there make you feel?
"Seeing the smiles of the children's faces makes the preparation, money and travel all worth it. These kids are affected by AIDS and other things in their communities that most Americans don't deal with. So seeing these children enjoy life for the time I'm there makes the whole experience worth while."
How did you fell at the completion of this trip?
"At the end of this trip I was glad to be coming home because I was missing American food, but at the same time I knew that this was going to be my last trip there for a long time, and that part of me was sad about leaving the kids. But a combination of those things left me feeling that I helped people less fortunate."
Did you tell anyone over there about the Dawgs?
"The cool thing about being a Georgia player was that I found a Dawg's fan while we were visiting a church there, and he started gong nuts when he found out I was a future Dawg. So Georgia is an international team."
Was it hard missing G-Day while you were gone?
"It was difficult not being at G-Day since last year I made it home 2 hours before and got to rush over to see the game. I've been trying to watch it on CSS for the replay of it, so I'm interested to see how everyone competed."
Did you totally get away or did you have an internet access there?
"I totally got away. We were told to unplug, so no phone, no itouch, no internet, nothing. I was dying because I carry my itouch with me 24/7, but I got used to not having it. But it is right back on my hip now."
What will you take away from this trip and do you plan to go back?
"I took away from this, like I have on the other trips I've been on, that its not about me. It is about serving others and looking for opportunities to make a difference in the lives of others."
"It's not going to matter 100 years from now what I did on the football field, but the lives I touched and made a difference in. So, just thinking about that I believe I was able to do that. Hopefully sometime after football ill be able to start back up my love of missions and get to help people in Africa and around the world."