Mentor program unique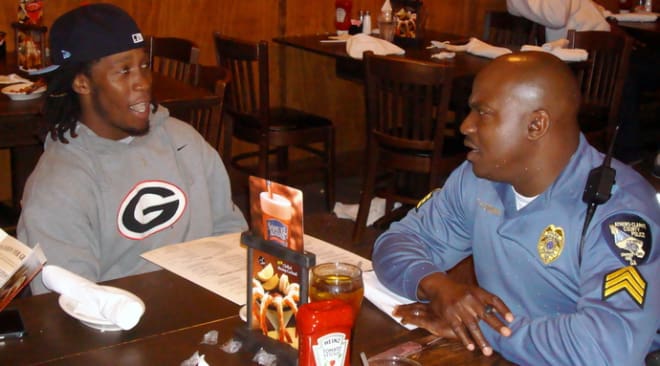 For Executive Associate Athletic Director Carla Williams and associate AD for Academic Services Ted White, their mission was a challenging one - come up with a new plan to further assist Georgia student athletes and enhance their experience while attending school in Athens. And maybe just keep some guys out of trouble.
The question was "How?" Upon reflection the answer became crystal clear.
With so many successful businessmen in Athens and individuals within the University itself - many former Bulldog athletes themselves - what better idea than to somehow bring the two together in some sort of mentoring role?
With that, Georgia's Mentor Program was formed.
"The purpose of the program is simply to engage community leaders with our student athletes," Williams explained. "We've got some valuable assets in the Athens-Clarke County area in all walks of life, not just in the community, but the University itself, so we wanted to get those folks connected with our student athletes and give them the benefit of having some valuable resources to mentor them, be role models and share some wisdom with them."
The program is believed to be one of just a few of its kind nationwide.
"It's kind of evolved over the last few years. We've known that it's important to have mentors with our student athletes and so we kind of started out with just a few folks in the community who were supporters of education and supporters of athletics and kind of got them involved with athletes here and there," Williams said. "This year it really blossomed into a program where we needed to expand and include a lot more student athletes."
Dave Van Halanger coordinates the program and helps find mentors to match up with perspective mentees (student athletes).
Currently, there are approximately 35 mentors who help with a growing number of athletes - primarily football players - who are looking to make the most of their college experience.
"Our goal is to develop our student athletes into the leaders of tomorrow and we want to walk alongside our young men and help them on their journey," Van Halanger said. "That's what the college experience is, it's a journey and what we try to do is get them with established men in the community who have really succeeded and have them share their lives with these guys."
Football coach Mark Richt applauds the program and has already seen some positive effects.
"From the feedback I get from Carla and Coach Van Halanger, our players have been very positive about having a successful man in the community that is able to take part in their life. The mentors are successful men in the community that are voluntarily giving up their time to our young men," Richt said. "To me, that is an extremely positive affect. When you have men of all types of professions working with our players trying to get them to be the best in every area of their life, that is a positive. As football coaches, we coach football and we work on developing character, but these men are character builders and that's what the mentor program is all about. And that's just another great thing to have in the University of Georgia football program."
Many more players will soon become involved.
In just over a week, Georgia's freshman class will arrive. Once they do, plans are already in place for each first-year Bulldog to have a mentor of his own.
"Yes, we are trying to pair up our incoming freshmen with a mentor in order to have another person in their life to help them in this long journey called a college football experience. I don't think you can have too many people that are positive in a young man's life, because the journey is long with hard times along the way," Richt said. "The goal is to always stay on the path and as you start as a 17 or 18 year old young man, you're away from home where you had guidance, rules, and accountability. This gives them another person that enables them to strengthen all of these areas and continually keep them on the right path."
Richt is confident the program will go well; although he admits - being the first of its kind - there may be some trial and error along the way.
"As with anything, we will definitely use this class as a 'pilot program' and see how it goes," he said. "We really don't have anyone we can talk to about it because we are the first program to do this. We may have some bumps in the road but up to this point, we have really had some positive feedback and had some great things being done in our mentor program."
Many of the mentors are easily recognizable to Bulldog fans.
Former Bulldog offensive lineman and local businessman David Weeks to former players Robert Miles, Bryan Gantt, Charles Junior and former Bulldog basketball player Derrick Floyd are among those serving in mentoring roles.
So is former Bulldog track and field standout and Director of Diversity Programs at the UGA Law School Greg Roseboro, who mentors sophomore linebacker
Alec Ogletree
.
Roseboro became affiliated with the Mentor Program after running into Miles at a local grocery store.
"He told me about this program and asked me if I'd be interested. I told him definitely and the rest is history but again, it goes back to my time as a student athlete and the pressures that you have to deal with, the time restraints and just the ability to be able to manage things," Roseboro said. "I just thought I might be able to share some of the things that I went through with some of the young men who are over there now."
Roseboro said it's helped being a father of three when it comes to relating with a player like Ogletree.
Their conversations touch on a variety of subjects, although football is rarely one.
"I've got three kids and they're about Alex's age. I have learned over the years to let the conversation come to you," Roseboro said. "So when we sit down we might talk about anything from school work, to the NBA championship, to football, but it's not just a football conversation, it's not just a school conversation - it's a life conversation, what are your plans after school if football does not materialize? Are you preparing yourself for life after UGA and football? We talk about family, we talk about animals; it's just a general conversation."
Mentors like Roseboro are asked to contact their mentees at least once or twice a week. The two have become great friends.
"I think one thing that we have to understand in mentor-mentee relationship is that these relationships can be very beneficial, but they also have lives and are very busy," Roseboro said. "I try not to be overly imposing on him but I try to reach him with a text message maybe once or twice a week, maybe get him with a phone call. We talk and from time to time he'll stop by my office."
Roseboro discounted the notion that the Mentor Program is for players who lack support from home. That's certainly not the case.
"I don't think we need to go into these mentor-mentee relationships with the assumption that these kids are deficient with family support and that is not always the case," Roseboro said. "Alex has strong family support. I'm just someone else that he can reach out to."
Tim Long agrees.
His oldest son - Bulldog offensive lineman Austin Long - is being mentored by Weeks, while his youngest son Hunter is scheduled to join the program as well.
"The way I look at it, if they can go to another adult, someone who has been through what they are going through, has been a success, it puts a different perspective on something, because mom and dad aren't always right in their minds," Long said. "One of the neat things that Austin told me is the guy who is his mentor (Weeks), he's got a couple of young kids and when he goes to their house, he can sit down with him and be a mentor of sorts to them, if you will."
According to Van Halanger, each mentor is encouraged to follow six key steps with working with their respective mentees - engage, educate, equip, energize, elevate and empower.
"Not every day is a good day. You might have a bad day, your coach might have just yelled at you, you're on the second or third team; we just want our mentors to stay positive around them," Van Halanger said. "Greatness comes from a struggle and I tell them try to empower them to do it themselves and help them to empower us."
It's not just about phone calls, a few visits and text messages, either.
The Athletic Association also sponsors get-togethers and activities for the mentors and mentees with speakers during the course of the school year.
Williams said the program benefits both parties involved.
"It's very early on with this expanded program but what we have seen is that it gives some of our community leaders the opportunity to get to know our student athletes," Williams said. "I know they read about them in the paper, maybe see them on TV and playing on Saturdays, but it gives them a chance to really get to know them, to understand them and understand the amount of work they do every single day as full-time students and football players at the University, to gain some appreciation for the amount of work they put into it.
"On the other hand, it also allows our student athletes to be engaged with our community and understand what the people around them are doing every day to make sure that we can live work and go to school. I think it helps on both ends, but for our student athletes I think they gain a real appreciation for how valuable our community leaders are to everything that they do."
Williams said the process to match mentees with mentors is a carefully conducted process, one that involves a diverse group within the UGA community.
"We've got an internal group that works with the program, Dave Van Halanger coordinates the program for us internally and we've got a support group that works with him and that's a pretty good mix of our staff that works with our student athletes on a daily basis," she said. "A lot of us have lived and worked in Athens for a very long time, so we're very familiar with a lot of folks in the community, so we just sit down and visit, try to match them up the best we can based on their personalities, interests and so forth."
The results, Van Halanger said, should one day speak for themselves.
"Anytime you can help someone become better or great - Wow - you're helping society, you're helping life, you're helping this kid," he said. "I think that's just a wonderful thing."