Isaiah Wilson: Bigger than ever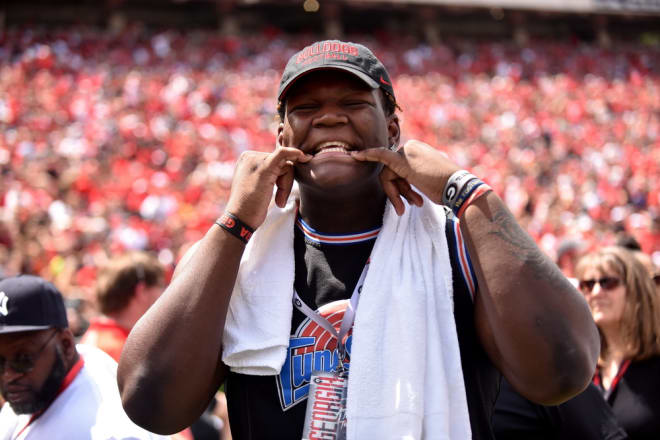 For incoming freshman Isaiah Wilson, the days are quickly winding down before he joins his new team later this month.
He can't wait.
It's been a long journey for the incoming offensive lineman, who made the day of many a Bulldog fan when he signed with Georgia last February.
From the sounds of it, the giant offensive lineman is equally as excited.
"Honestly, I'm treating it how I've always treated new things in life," the Brooklyn N.Y. native told UGASports Thursday morning. "That's with work."
No doubt Bulldog coaches can't wait to get him to town.
Although head coach Kirby Smart recently dismissed D'Antne Demery, Wilson and fellow freshmen Netori Johnson, Justin Shafer and Andrew Thomas, along with early enrollee D'Marcus Hayes, give Georgia what appears to be its most impressive group of OL newcomers in a number of years.
According to Wilson, his message from offensive line coach Sam Pittman has been crystal clear.
"Coach's message to me is to just keep working and come in ready to learn," he said. "I'm in good condition and they said they love what weight I'm at."
As far as what that weight exactly is, well, Wilson would rather not say.
Inside Georgia's spring football media guide, Wilson is listed at 6-foot-7 and 350 pounds. During his visit to Athens for G-Day, the former five-star performer appeared to be in great shape.
Even so, his exact weight will apparently stay his secret for now.
"I'm the biggest I've ever been, but the tummy is barely there and I'm looking great," Wilson said. "That's my hint."
Wilson did confirm one thing – right tackle will be the position he'll train at once he arrives on campus.
Senior Dyshon Sims ended the spring as the starter at right tackle, with redshirt freshman Ben Cleveland listed as the top backup but Wilson figures to receive every opportunity to show what he can do.
"I hope my transition is extremely smooth and that I acclimate well to where I am," Wilson said. "If anything, the summer heat can be a little rough, but we do have a brand new indoor (practice facility)."
Although he makes no predictions, Wilson does make one promise – he's going to give it everything he's got.
"I'm expecting to come in and compete," he said. "I'm coming here to fight to help this team win a lot of games this year."