How will they fit into the mix
UGASports has already examined many of the youngsters expected to make an impact with the Bulldogs this fall.
But what about some of the upperclassmen?
Although their names are familiar, questions remain about how much they will contribute to
Georgia
's cause. Today, we'll take a look at six players who qualify as potential veteran surprises for 2008.
UGASports publisher Steve Patterson then adds what he feels will happen.
Players are listed in no particular order.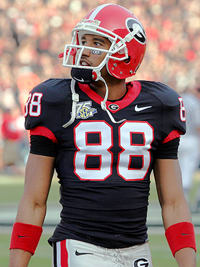 Why it will happen: With the possible exception of fellow seniors
Mohamed Massaquoi Click Here
to view this Link.and
Demiko GoodmanClick Here
to view this Link., Harris understands Georgia's offensive system as well as any of the Bulldogs' wide receivers. Although he was slowed by a minor leg injury during the spring, the 6-foot-3, 215-pound Harris is just the kind of big target that quarterback
Matthew StaffordClick Here
to view this Link. will look to often and early.
Why it won't happen: Although he's got 30 career catches for 573 yards, Harris only caught four balls for 52 yards last fall and will need to make some plays early to create some confidence. If Harris gets off to a slow start, coaches won't hesitate to stick in somebody else and with freshmen
Tavarres King
and
A.J. Green
now in the fold, they may not wait too long.
Patterson's Prognostication: It will be a little of both. Harris will contribute, will probably have a key reception or two that really helps the team, but in the end he will be fifth or sixth on the team in receptions among receivers.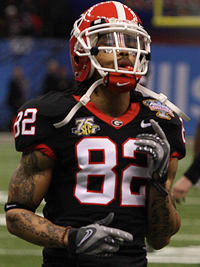 Why it will happen: During spring practice, teammates raved about the progress being made by the 6-2, 188-pounder and the junior proved his ability during G-day when he caught a pair of touchdown passes from Stafford and
Logan GrayClick Here
to view this Link.. The talent is definitely there and coaches plan on him playing a key role this fall.
Why it won't happen: Moore got himself into trouble last year with some key drops against South Carolina which pushed him down in the receiver rotation, a hole he never was able to successfully escape. If that happens again, Moore's ability to respond from adversity could determine his future as an integral part of the Bulldogs' receiving corps.
Patterson's Prognostication: The first three words above "During spring practice", is the reason it probably will not happen. Moore is in much the same situation as three other recent UGA receivers as they went through their careers. LaBrone Mitchell, Mario Raley, and Bryan McClendon.
Mitchell provided depth but overall was not a major factor, Raley had great off-seasons and some big moments during the season, but overall had a career similar to that of Mitchell.
McClendon was on the same path, but then turned it on as a senior as was a major part of an offense that went on to win the SEC Championship in 2005.
There have been questions as to Moore's toughness since he was a prospect. To this day, one recruiting guru who saw him at the Miami NIKE Training Camp always reminds me of how all the cornerbacks "got into his head" all day long.
I am not going to throw down the "man enough" glove here, but Moore will need to step up in a big way if he is going to be a September-December contributor. I hope he does, and it is a good thing that McClendon, who is a great example of having a great senior season, is now an assistant receiver coach at Georgia.
Moore is a smart guy, great interview, and I hope all the best for him (though he will probably now want to challenge me to an arm wrestle and refuse my interviews). One last thing, Moore is just a junior and still has 2009 to make his mark.
Why it will happen: Have you seen this guy run? With the graduation of Mikey Henderson, Goodman takes over as Georgia's fastest wide receiver and based on that is arguably the Bulldogs' best deep threat at this early stage. Goodman's ability to run past defensive backs is what makes opponents stand up and pay attention.
Why it won't happen: Consistency. Goodman needs to show that he can consistently make the play when Stafford goes his way. Although drops haven't been a particular issue with Goodman, he still needs to show coaches and teammates that he can live up to the potential many predicted for him when he sighed with Georgia five years ago.
Patterson's Prognostication: Frankly, I have no idea.
I was talking to the national college sports writer who is putting together the UGA preview for Rivals.com, and he asked me about players who could surprise people with a big season.
I actually mentioned Goodman's name. Who knows why. We really have no reason to believe he will have a big final season as there is no track record to base those hopes upon.
If anything, the first thing that comes to mind is why has he failed to have a bigger impact since he and Calvin Johnson were the No. 1 and No. 2 receivers coming out of the Peach State in 2004.
Granted, there have been a number of injuries, and, while he is in great physical condition, he is very thin and you have to wonder if that impacts his chances for success against physical defensive backs.
I lean towards thinking he will have the best year of his career as a senior. Why? I have no idea.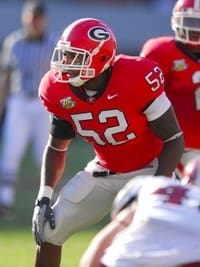 Why it will happen: Work ethic. Dewberry is one of the hardest-working players on Georgia's defense and is one of the fastest straight-ahead runners on the defensive side of the ball. Dewberry's ability to attack the ball carrier will ensure he gets his share of playing time this fall.
Why it won't happen: By his own admission, Dewberry sometimes has trouble with his footwork and lateral movement, which as any linebacker will tell you, is imperative for overall success. Another reason is Dewberry's groin. The junior says he's 95 percent healthy after undergoing surgery in late March, but there will always be concern of another setback there.
Patterson's Prognostication: If it is going to happen it had better happen quick as an already fierce competition at linebacker is only going to get more heated with the arrival of the three new freshmen.
Given his groin trouble, it does not seem far fetched to think that Dewberry could quickly find himself in a rotation for the second team than a rotation on the first team.
However, coach Richt's comments last Tuesday night at the Jacksonville Bulldog Club suggest that the battle between Dewberry and Akeem Dent is much closer than we believed at the conclusion of spring camp.
Dewberry reminds me in many ways of Adrian Hollingshed. If you recall, Hollingshed always hung around the two-deep rotation, but, aside for a few big moments such as when he was named SEC Defensive Player of the Week South Carolina in just his second game as a starter, he slowly dropped off as his career went on.
Hollingshed also had trouble with lateral movement, and eventually spent some time at defensive end. Brandon Miller, who was a much better overall athlete than either of these two, and had an overall good career, he was a similar kind of player in that he could player linebacker or defensive end.
Why it will happen: A strong second half in 2007 and solid spring put Evans back in a positive light with defensive coordinator
Willie MartinezClick Here
to view this Link.. Evans will get a chance to unseat
Prince MillerClick Here
to view this Link. as the starter at wide corner, although even if that doesn't happen, the Jacksonville native's natural athletic ability and excellent speed will keep him a vital part of Georgia's secondary rotation.
Why it won't happen: Consistency. That's what put Evans in Martinez's doghouse in the first place after he was beaten a number of times for big plays. Evans also needs to show that he can be a more physical player and not get lost in coverage.
Patterson's Prognostication: I believe it will happen, and I also believe he could take back the starting spot from Miller.
The two have been about even for a long time, but, as Dasher mentioned above, consistency has been Evans' problem. That tells me that if these two were neck-and-neck with Evans' being inconsistent, if he can overcome that one shortcoming, he could not only win back a spot on the first team, but could be one of the Dawgs' biggest assets on defense for the 2008 season.
Why it will happen: Blessed with some of the best raw speed on the team, something Brown proved in the Sugar Bowl when he returned a kickoff 90 yards during the Bulldogs' 41-10 rout of Hawaii. It's that same speed which allows him to stick close to opposing wide receivers and it's why he's No. 2 on the depth chart at SC behind
Asher AllenClick Here
to view this Link..
Why it won't happen: Listed at just 170 pounds, Brown will never be the kind of physical cornerback coaches would prefer, which means his playing time on defense will largely be determined by how well he maintains proper technique while in coverage.
Patterson's Prognostication: I hate to be a Negative Nancy overall in my thoughts on these players, but I just don't see Brown having a year much different this year than in the past.
Certainly a big time player on special teams, perhaps he should be looked at more for his contributions there than where he might fit into the cornerback rotation. Kind of like the player Thomas Flowers became over the course of his career.