Herbstreit on the SEC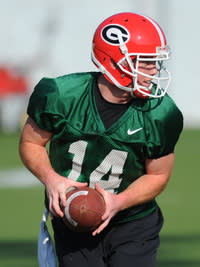 Jacksonville, Fla.--Kirk Herbstreit, a college football analyst for ESPN, was a part of the "Night of Champions" (a Fellowship of Christian Athletes sponsored event) in Jacksonville, Florida last Friday night featuring Florida quarterback Tim Tebow. Brent Beaird of Rivals.com caught up with Herbstreit for a brief interview concerning his thoughts on the SEC.
Can the Gators repeat as SEC and national champions?
"Anytime you return your entire two-deep on defense, it's a strength. I always start there with any team. You think about (quarterback) Timmy (Tebow) coming back along with the majority of his skill (players) and the offensive line. They have some guys that they have to replace, but there's so much to be excited about. There's still some work to do with the guys they lost. (Receiver) Louis Murphy was a talented player. (Receiver) Percy Harvin was a talented player. Those are two parts of the offense that you have to replace."
What is Florida's biggest obstacle?
"The Gators biggest challenge is turning on "SportsCenter" and listening to guys like us because everyone is going to be telling them about how wonderful they are. They could beat someone by 30 and people are going to be questioning as to why they didn't win by 40- or- 50. Tim (Tebow) dealt with that last year after he won the Heisman. They have to block all that out and play ball."
How big is the Virginia Tech vs. Alabama opener in the Georgia Dome?
"Last year might have been (Virginia Tech's) Frank Beamer's best job as a head coach with what he had to deal with in the talent turnover. Bud Foster continues to be one of the top defensive coordinators. There's enough talent there coming back that they are excited about what they have to offer in the ACC."
How good can the Tide be in Coach Nick Saban's third season?
"Alabama will be fine, but they have to find a quarterback and replace some guys on the offensive line. As long as Nick Saban is at Alabama they're going to be a 10, 11, or 12- win team every single year. Whoever wins that game it could be a spring board into having a championship type run."
Will Georgia rebound after losing quarterback Matthew Stafford?
"I was at the spring game and I thought (quarterback) Joe Cox is the type of guy who can manage the game. He's not going to flash or not do anything silly or destructive to the offense."
What concerns you about Georgia?
"I just don't see the depth of difference makers on their roster like you see at places like Florida, LSU or at USC. That's missing right now. Maybe some kids will emerge in August or a freshman will emerge, but right now there is work to be done. I think that they are going to have a great team, but right now they are not ready to compete with Florida."
How good could Ole Miss be?
"Their facilities are second–to-none. It's a beautiful campus and Coach Houston Nutt's going to recruit well. (Quarterback) Jevan Snead is coming back. They have a favorable schedule. They're coming off a big bowl victory. They could win the West."
What team could be a surprise?
"A team that is coming is Arkansas. Coach Bobby Petrino took so much negative press in the way the Atlanta Falcon situation ended that people forget the job he did at Louisville. He's a heck of a coach with a great offensive mind. He's got (quarterback) Ryan Mallet, if he can stay out of trouble. They have enough skill (players) there. They'll get someone in Fayetteville and embarrass them. They'll be a surprise team."
What happened to LSU last year?
"They went through winning the championship and having a lot of turnover in the coaching staff, losing some great players and dealing with the pressure of 'everyone wants to beat us' just overwhelmed them. The way they played in the bowl game built some momentum. I think there's enough there."
What does new coordinator John Chavis bring to the Tiger defense?
"Chavis is a huge hire for them. People forget that even though Tennessee's been on the demise that the defense was still strong. There'll never have a shortage of athletic ability. They get the Gators there at home at night which will be huge. They have to get their confidence going in showing more consistency like they did two years ago."
How will Coach Gene Chizik do at Auburn?
"I thought the Gene Chizik hire was a good hire. Gene's been around the Big 12 and had success at Auburn and Texas as a defensive coordinator. When he went to Iowa State things didn't go well and because of that people are almost forgetting that he's a good coach."
Will Lane Kiffin be successful in his first year at Tennessee?
"Lane Kiffin comes in with a new attitude with guns blazing. He's calling guys out. I'll make a prediction right now. I will make a prediction right now that 2009 will be a tough year for him to get welcomed into the conference. I think beyond that with the staff that he has put together they will be a factor in the SEC."
Brent Beaird writes for Rivals.com, Gator Bait magazine and Samsportline.com. He can be heard on 1010XL sports radio in Jacksonville, Florida. Brent can be contacted at brentbeaird@comcast.net