Former Dawgs Wynn, Jones have some advice for Trenton Thompson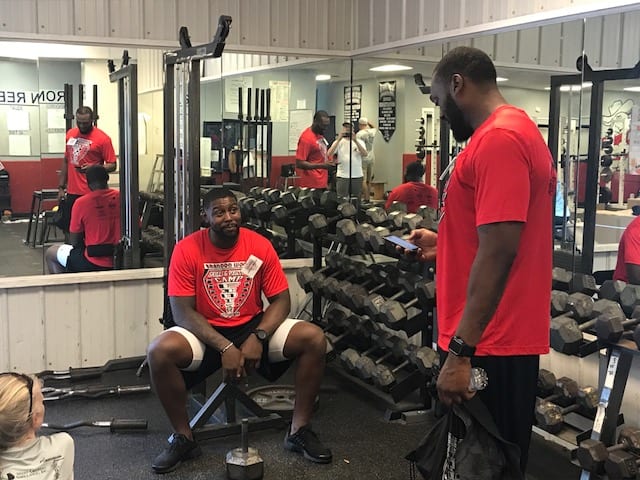 TALLAPOOSA – If Trenton Thompson needs an ear to bend, someone to talk to who's walked in his shoes, former Bulldog defensive linemen Jarius Wynn and Abry Jones would be a good place to start.
A seven-year NFL veteran, Wynn is currently a free agent, but has a Super Bowl ring he won as a rookie member of the Green Bay Packers in 2009. Jones is entering his fifth season with the Jacksonville Jaguars and, in February, signed a four-year contract extension for $16 million.
Both like what they see in Thompson.
They also have a bit of advice.
"The best advice I would give him, just stay focused and put your best foot forward every day," Wynn said. "Everything else will take care of itself. All he has to do is give it his all."
Jones takes it a step further.
"He just needs to love the process," he said. "You can go from loving the game to doing your job in a heartbeat. No matter what aspect of the game it is, you can always love every single aspect of it."
Jones said that's a lesson he's had to learn himself.
"I still am. I've been real lucky to be on defensive lines with the Jaguars that have a lot of great guys, that still have fun with the game, still communicate to get everybody together," he continued. "It's not just go to work and, after work, we separate and don't talk-type thing. We all keep in contact and hang out with each other."
Both Wynn and Jones wish Thompson the best following his much-publicized incident back in February, when an adverse reaction to some medication led to his withdrawing from school for spring semester. Thompson's back now and expected to reclaim his spot in the middle of the defensive line.
"I really like Trenton. He has a motor. He's been working hard," Wynn said. "I've seen him in the training room while I was there when I tore my ACL, and I'm seeing it pay off for him. I really hope it works out for him this year."
Both Wynn and Jones were on hand at G-Day to get a bird's eye view of the players who will make up Georgia's defensive line this fall.
"Talent … a lot of talent. Jolly (Thompson) wasn't there but I hear he's doing better, and I'm glad about that," Jones said. "I'm ready for that whole group to really take off. They've got a lot of good guys there."
They've also got something Jones said the group he played with at Georgia didn't – depth.
"They've got multiple guys that they can roll in there," Jones added. "When I was in school, we were pretty much just three-four deep. We didn't have much rotation, but talent-wise I think we were pretty much the same. We had Jarvis (Jones), Cornelius (Washington) was a specimen, and we had Big John (Jenkins). We had a couple of special athletes when I was in school."
Wynn agreed.
"We had a good squad when I played, too, but I think the kids are going to be good," he said. "They're still young, but I feel they will be better than they were last year."