Dawgs to get new mascot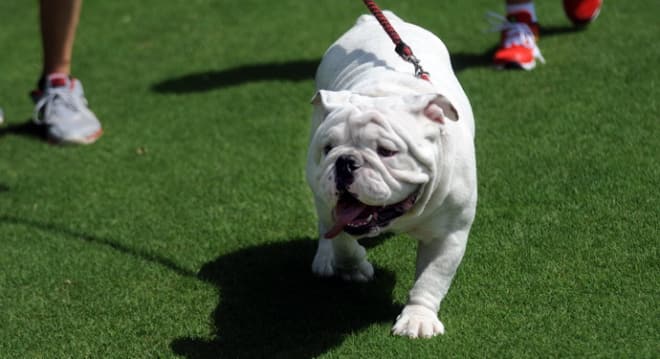 Georgia
fans who showed up at Saturday's 10th annual Countdown to Kickoff
festivities received an unexpected surprise - their first look at the bulldog
who will possibly become the new Uga X at some point this fall.
Earlier in the day, Charles Seiler, whose family has provided the English
Bulldog mascots to the University now since 1956, confirmed that Uga X will make
his debut this season with Uga IX (Russ) bound for retirement.
Introducing Que - as in curley-q, which describes his tail - is a year-and-a-half old
mostly-white
English Bulldog, who was given a test run before appreciative fans Saturday at
Sanford Stadium.
"We've got three candidates to be the next Uga. This is his first turn up here
and we'll see how he does," Seiler told UGASports. "He's great looking but we
don't know how he's going to get along with people in the heat so we're testing
him out."
From all indications, young Que appeared to be handling the attention just fine
sitting in his cage atop the concourse at Sanford Stadium.
Que - the grandson of Uga IX - will have some competition.
"We've got Gus, but he's really young, only eight months and he's having his
throat done. We typically clip their nasal passages, remove the adenoids from
their throat to make it easier for them to breathe.
That's already happened for Que," Seiler said. "But (Gus) will get a turn up
here and we'll see. We've got an older dog, but he's just in case. Gus and Que
are the front-runners; the other two are backups."
As for Uga IX, the 11-year old mascot served as Georgia's interim mascot from
2009-2012 before giving his "promotion" to "Uga" status in 2012.
According to Seiler, Uga IX's advanced age is the main reason the family is
decided to have him retired this year.
"What happened was, we didn't start using him until he was six so everybody
thought he was a young dog, but he's not," Seiler said. "He's 11 recently we
decided that we'd probably retire him at some point this year."
Give Uga IX credit for sticking it out as long as he has. Most Georgia mascots
are retired by age seven or eight.
"He's got a bad eye. When he was a puppy he actually rubbed his eye out of the
socket on a fence and had to put it back in. It's a usable eye, but he's
visually impaired," Seiler added. "The other eye is just sitting there so we
constantly medicate to keep it moist. He's fine, but it would be like you having
only one eye and constantly having to look right or left so we do the best we
can. He doesn't like loud noises or heat so games aren't the best situation for
him but he does well."