Dawgs step into feeding frenzy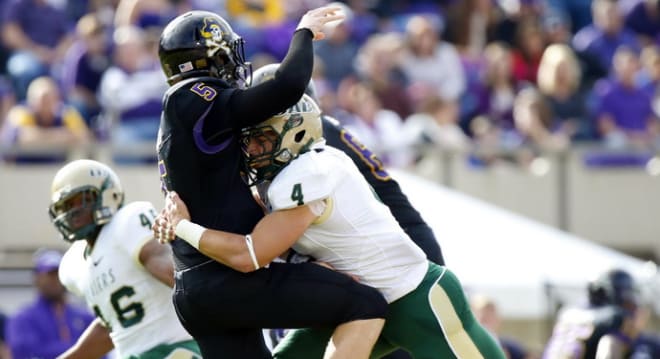 In one of the more stunning developments of this or any recent college football
season, the University of Alabama-Birmingham, an FBS program and member of
Conference USA, decided to shutter the Blazer football program, deeming it "not
sustainable" from a financial standpoint.
Though the program was oft maligned, had struggled to find success and had been forced
to recruit against two of the top teams in the nation located nearby, the 2014
campaign offered a glimmer of hope. The Blazers seemed to be turning a corner
under new head coach Bill Clark.
Even so, the school and the Alabama Board of Trustees decided to pull the plug, and
so, for the first time since the Pacific football team shut down
operations in 1995, a team had been disbanded.
An anticipated but little understood consequence of the shut down has just
started to come to light, namely the creation
of a pool of experienced players with immediate eligibility elsewhere.
Former UAB linebacker
Jake Ganus
, a junior from Chelsea, Alabama, is among those
caught in the tumult, and, according to Ganus, the situation is reminiscent of a
feeding frenzy.
"It was like we all become free agents over here.  Phones didn't stop ringing. 
Coaches were outside of academic buildings, in the parking lots, just
everywhere, trying to meet with kids," Ganus said.  "For a lot of us, we're just
like D1 experienced JUCO players.  We're eligible to play right away, unlike a
normal transfer.  It was crazy, at first.  All the calls and seeing the
coaches-- it was just pretty nuts."
Ganus and his fellow Blazers may have offers on the table and schools interested
in their services, but administrative red-tape and a unique set of circumstances
are putting their plans on hold
for now.
"It's the NCAA," Ganus said of a potential timetable or final ruling.
 "I know they're working hard to get this all squared away, but, with our
situation, I know my waiver isn't the only one that's filed.  They've got about
ten different waivers from other schools, as schools are trying to get it to
where we can come in for free."  
By free, Ganus means free of some of the restraints placed upon normal
enrollees. Ganus has requested to be allowed to enroll early at Georgia but
without counting towards Georgia's early enrollee spots. Rather, he and the
Bulldogs would want Ganus to be counted towards the standard 85 scholarships
allowed for next season without him having to wait until May to enroll.
"With the UAB
football situation, there are a lot of different things that are happening,"
Ganus said. "Different schools are applying for different waivers. With Georgia and some
other schools as well, because I've talked to my other teammates, they can only
bring in a certain number in the mid-year slots. The waiver we applied for was
that I wouldn't count toward the mid-year. I would just be a regular scholarship guy. I heard from one of the Georgia coaches, and they said I should know something tomorrow."
The NCAA will have to decide how to properly handle requests like Ganus' in a football crazy world filled
with coaches looking for a competitive advantage. It has already waived for the
UAB players the traditional dead period recruiting restrictions set to begin on
Monday and Ganus is expected to visit Athens next Tuesday. Ganus is optimistic about the
overseeing body's promise to its athletes.
"There's just a lot of stuff happening with UAB players, and I think that's
what's causing it and making it take a little longer," Ganus said.  "It's different for everyone. For me, I had a bunch of offers, but I'm waiting on this waiver to help my chances with Georgia. Other schools are waiting to see if they don't get a commitment they want. Then, they'll come after us. There's just a lot of different scenarios.
I feel good about it,
though.  Everyone I've talked to says there's no reason they wouldn't grant this
(waiver). Their interest is what's best for the student-athlete. 
Obviously, some schools, like Georgia, would have filled up their mid-year slots
with high schoolers (by now).  If they want us UAB players to be able to have a fair
chance, then hopefully they'll grant it."
While Ganus waits to hear, he's caught in limbo -- a situation where both he
and potential suitor schools are proceeding with caution before discussions of
offers and commitments can be made.
"
Marshall
has offered," Ganus said.  "They have an open mid-year slot, and I've been in
contact with them.  I had 18 offers, and this past week I've weeded it down, a
couple schools at a time. I got to where Georgia and Marshall are
my top two.  Now, I'm waiting to hear back on this waiver for Georgia; then
we'll see past that."
If the NCAA grants grace to Ganus and the other displaced Blazers, the former
high school three-star recruit says it could allow him to make a homecoming after a
tough break in Birmingham.
"Out of all my potential offers,
Georgia
would definitely be the biggest. 
I grew up in Alpharetta, Georgia.  I lived there for fifteen years, so
Georgia is home to me but I graduated from Chelsea High School, and I claim Chelsea because I
really enjoyed my high school experience there.  It's a great, smaller town
outside of Birmingham, and the people there are nice," Ganus said.  "Still, 15
of my 20 years that I've had so far were in Georgia.  Going home would be a good
situation for me, but I'm still just waiting for the NCAA and keeping my options
open."
A couple of old connections have brought Ganus and the Bulldogs together.
"I know one of the recruiting assistants at Georgia.  We both graduated from the
same high school.  When this all went down, I think he reached out to the
defensive staff and said, 'Hey, I know this guy who was a UAB linebacker.'
Linebacker is one of the areas that they're looking for recruits, so he talked
to them," Ganus said.  "I knew Coach [Jeremy] Pruitt from Alabama and when I was in high
school, so we had a previous relationship.  He didn't recruit me, but we knew
each other and had talked, so we were familiar.  Once my film got sent to
Georgia and that staff, they liked what they saw.  They contacted me and put me
in contact with Coach [Mike] Ekeler and Coach [Kevin] Sherrer this past week.  That's how it
all got started with Georgia."
Still, both parties are forced to play the wait-and-see, despite what could be a
strong mutual fit.
"They're graduating two linebackers, and I know they want to bring backups to
the team," Ganus said. "Linebacker is definitely a need to fill for next season, so I think
the opportunity to play is there.  It'll be tough, because I know they have some
great players coming in and some great players that are already there.  With an
offer and everything from them, it's hard to say, because we're still waiting on
this waiver to come through."
The waiver will be the defining factor it appears, not only for Ganus, but for
the rest of his former teammates.
He's confident that when the ruling is made he will have the opportunity to land
on his feet, and, hopefully, don a Bulldog uniform if everything works out.
"Georgia plans to fill their ten mid-year slots, because they've got a lot of
early enrollees," Ganus said.  "This year, if I can count as a regular 85 guy
and not toward the mid-year count and that gets approved, then I would say we
might make it official and they'll officially extend an offer."  
Ganus followed with the qualifier that has undoubtedly become a familiar
sentiment in Birmingham. "Until then, I'm just kind of waiting," Ganus said. "I want all my teammates to find a place. It's unheard of, and, for someone like me, it might end up in the SEC at a better school, but some of the other guys may end up at a D2 school or something like that. It's a tough situation."
Author's Note: When I contacted Jake Ganus, I was working off of a tip that had been forwarded to me and a phone number that hadn't been updated in three years. I'd expected to discuss his potential interest in the Georgia Bulldogs in the aftermath of the UAB shutdown. Ganus obliged, but he also gave me a look into life at UAB after the fallout. I hope to see the NCAA and its member schools do what is in the best interest of these young men who are dealing with an unimaginable situation - JR