Dawgs knock off No. 10 Kentucky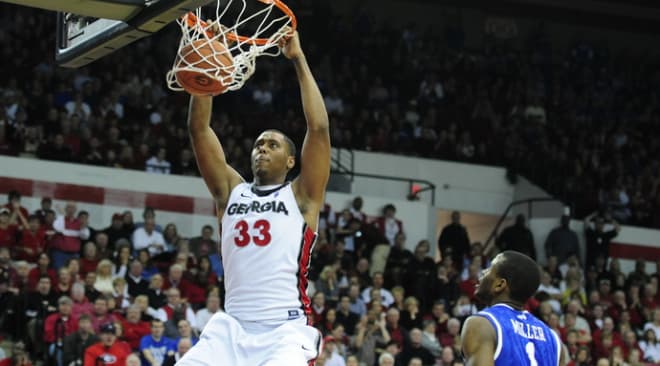 Saturday's 77-70 win over 10th-ranked Kentucky was reason to celebrate.
"That's what college basketball is all about - two good teams playing hard; two good teams really battling it out," Fox said. "We beat a good team. We beat a very good basketball team."
As a result, the Bulldogs (12-2, 1-0) were able to extend their SEC-best winning streak to nine games, beating the Wildcats (12-3, 0-1) for the first time in three tries.
"Last year we felt we had to play a little bit out of character to win some of those. This year, if we play well, we're going to be good enough to have a chance to win," Fox said. "I've got to give our team credit. They played with a real maturity."
The Bulldogs needed to in order to pull out the victory.
But the rest of the game was all Georgia, which held Kentucky to one point from the 7:07 mark to just 2:23 left to play.
Meanwhile, the Bulldogs poured it on, outscoring the Wildcats 19-12 the rest of the way to finish with the seven-point victory. It would have been a double-digit win, but Jones nailed an uncontested 3-pointer with three seconds left to account for the final score.
"We talked a lot at the half that we are mature enough to play two halves. We knew we were going to have to be mature to withstand that run we knew they were going to make. But we're an older team. We should be able to finish that game," Fox said. "So give Kentucky credit, they came storming back and they've got a great team. They really do. That makes this win special."
Statistically, it was Georgia's best overall game this season.
The Bulldogs outrebounded Kentucky 41-37 and shot a season-best 30-of-34 from the free throw line, easily the team's best effort this year. Georgia came into play next-to-last in the SEC in free throw percentage, shooting just .622 for the year, including an 11-of-12 afternoon by Thompkins.
"Probably before I was born, but that was good," said Barnes, who was 3-of-4. "It's all about concentration, staying balanced and shooting up and over. Coach Fox has been preaching that every day in practice; we shoot before, during and after practice. One time he made us shoot 100 in one day because we were losing confidence, but it showed up today and we were able to get that confidence back."
Thompkins said he wasn't surprised by Georgia's effort against the 'Cats.
"We expect to play with teams like Kentucky, Tennessee and Florida," Thompkins said. "We feel like we are just as good as they are and it's always going to be a fight when we play them."
Georgia controlled the first half.
The Bulldog jumped out to a quick 4-0 advantage forcing an early timeout by the Wildcats, who shot just 37.5 percent the first half in falling behind 41-30.
"(SEC play) is hard … we have guys in these positions that have never been here before and we need them to make plays," Calipari said. "We did a lot of things, but you have to give Georgia credit; they really played well. They rebounded well, shot well and we didn't do the same. This was a physical game and we really have to be better. We have to be tougher, not just physically, but mentally, too."
Georgia hits the road for its next two games, traveling to Vanderbilt Wednesday before going to Ole Miss. on Saturday.
The Bulldogs will then play three straight home contests, Tennessee (Jan. 18), Mississippi State (Jan. 22) and Florida (Jan. 25).
"We have a lot of confidence in ourselves and don't really look at the rankings," Robinson said. "To get a conference win like that, everyone has to come out and play basketball every night. We'll have another hard-fought match when we play Vanderbilt on Wednesday."