Dawg Paddle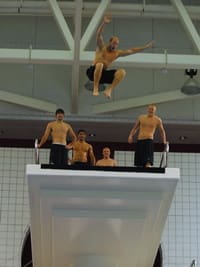 went down Monday with a season-ending knee injury.
"That hurt, we've got similar personalities. We're both fun-loving guys and we're always around each other in the meeting rooms, walkthroughs. We're always around each other telling jokes so when he got hurt it hurt me," Davis said. "When I went in the training room I had to hold back tears because it hurt me, too. He's my best friend."
Now, Davis goes about the task of trying to replace his pal at left tackle. Tuesday, head coach
Mark Richt said that Davis will get the first shot at the position, although coaches will also mix and match several other of his teammates to attempt to find the perfect match.
"I believe in myself. I believe I can do it," Davis said. "I've just got to get Coach Richt, Coach (Stacy) Searels) and Coach (Mike) Bobo to believe I can do it, too."
Davis (6-foot-6, 298) has spoken with Sturdivant several times since the injury. He's already given him some sage advice.
"Before the injury, we'd always be there critiquing each other and he's always helping me with things I need to work on," Davis said. "Before this happened, I kind of knew that I would have to really work to get playing time behind him, so now that he's out I feel a lot of weight."
Richt also suggested several other options Tuesday, including
"Coach Searels is going to play the best five. It doesn't really matter what side I play on," he said. "Just as long as the offensive line works together, we should be all right."
Tripp said he received some looks at left tackle during Tuesday afternoon's workout.
"I got a couple of snaps over there. I know both sides. I know all the offensive line spots," Tripp said. "Coach Searels teaches us to know other positions anyway, so if we make a change, it's not that big a deal anyway."
Dawgs hit the pool
Richt gave his players a break from their two-a-day grind when he took the entire team over to the Ramsey Center pool.
The players spent approximately 45 minutes at the facility, with many taking their turns at the 10-meter platform, including Richt, who executed a pair backflips before hitting the water.
"You guys saw me, I'll let you give me a grade," Richt chuckled. "At least I was able to land on my feet."
Freshman
Tripp wasn't sure about that as he was one of a handful of other players who watched the activities instead.
"Coach Richt makes it look easy. I wouldn't dare get up there myself," Tripp said. "Today really surprised me, I came in, thinking we've got practice, we've got two-a-days. I was trying to get my head right and then they told us to go to the pool I was shocked."
Tripp said he did get a kick out of watching some of the freshmen get in the pool for the first time.
"Some people don't even know how to swim on the team and we had a couple of guys out there with floats and stuff," Tripp said. "Some of the guys were getting on them, but it was all fun."
This and that